O Ritual dos Sádicos (Awakening of the Beast)
(1970)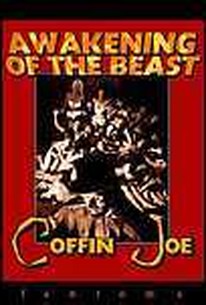 AUDIENCE SCORE
Critic Consensus: No consensus yet.
O Ritual dos Sádicos (Awakening of the Beast) Photos
Movie Info
Brazilian horror icon Jose Mojica Marins explores the drug culture as only he can in this distinctive blend of terror and surrealistic images. A group of leading Brazilian psychiatrists have come together to debate the effects of recreational drugs (particularly LSD, marijuana, and cocaine) on their patients, with noted filmmaker Marins in attendance. As the doctors exchange increasingly bizarre stories -- running from a female college student led into a fatal sexual encounter with a group of pot-smoking bohemians to an older cocaine-addled woman obsessed with miscegenation and bestiality -- one proposes an unusual experiment. Gathering four volunteers with long histories of drug abuse, the doctor doses them with LSD and presents them with the fearsome image of Marins' alter-ego, Ze do Caixao (aka Coffin Joe), and under the influence of the hallucinogen they are taken on a bizarre voyage through the frightening world of Coffin Joe's psyche. O Ritual dos Sádicos was completed in 1969, but after it was rejected by government censors, the film went unreleased in Brazil for 20 years; while most of the film is in black-and-white, the concluding hallucination sequences are in vivid color. ~ Mark Deming, Rovi
Rating:
NC17
Genre:
, ,
Directed By:
Written By:
In Theaters:
On DVD:
Runtime:
Critic Reviews for O Ritual dos Sádicos (Awakening of the Beast)
There are no critic reviews yet for O Ritual dos Sádicos (Awakening of the Beast). Keep checking Rotten Tomatoes for updates!
Audience Reviews for O Ritual dos Sádicos (Awakening of the Beast)
½
I'm tempted to rate this a five just for the sheer perversity of it all. But as much fun as it is to make sport of, it's a really bad movie. One of Coffin Joe's (Brazil's answer to Ed Wood, director Jose Mojica Marins) messterpieces, this one is supposedly a serious study of how LSD affects behavior. Scenes of really bad, not even CLOSE to erotic softcore sexual content involving some really ugly people (WTF? I thought Brazilian people were supposed to be gorgeous!?!), including a gangbang, a rape, bestiality, and nods to various forms of fetishism. In between these scenes are scenes of social scientists, doctors and psychiatrists discussing what all this means to society as a whole. Finally, four of the "perverts" are chosen to be part of an experiment involving LSD and Coffin Joe movies. Following scenes where these folks attend a club with erotic dancers and a porn flick, they take LSD and end up in what appears to be hell, with people being tortured and abused, along with lots of nudity and sexual imagery. I'm guessing this is some sort of lame-ass acid trip. While most of the film is in B&W, this acid trip is in brilliant, nauseous color. Viewers should take particular note of the music. It is so totally inappropriate for the action on screen, that it's hilarious. The whole thing is just ridiculous, all the more so because it seems to take itself so seriously. But then again, maybe the joke's on me.
Coffin Joe's psychedelic adventure is horribly paced and acted, but the deliriously bizarre third act almost redeems the interminable first hour, consisting of a psychologist telling random stories of drug-induced depravity. In all honesty, "Awakening of the Beast" would have made a great 20 minute short, since that seems to be all the color film stock the production could afford. All the B&W bullshit preceding the grand freakout setpiece only exists so director/star/demigod Jose Mojica Marins can craft a thesis: drugs don't cause madness, they only amplify pre-existing maladies. Which would be a roundabout way of inducing psychosis, but we won't go there. Pointlessness aside, once the four hapless volunteers receive LSD and stare into the bearded visage of "Zo de Caixao", they find themselves caught in his hairy clutches, in a universe of his own twisted conception. With his top hat, curving fingernails, cloak and arcane looking jewelry, not to mention total control of time and space, Joe's a real piece of work. Whether he's manifesting a group of women and slapping them into a pile at a man's feet, shooting flames out of his fingers, teleporting willy-nilly or rolling corpses down a stairway, C.J. delivers surrealistic torment with a unique flair, always punctuated by his own acidic Nietzchean proclamations. Alas, his time in the playhouse is cut short. 20 glorious minutes of terror is hardly adequate, especially when the "thesis" hardly makes sense. Oh well. Would love to check out further Coffin Joe adventures, but only if they leave out any pretense of narrative or "meaning".
Kevin McCormick
½
Maybe i need to rewatch this.
Tsubaki Sanjuro
Super Reviewer
O Ritual dos Sádicos (Awakening of the Beast) Quotes
There are no approved quotes yet for this movie.