O Céu de Suely
(2007)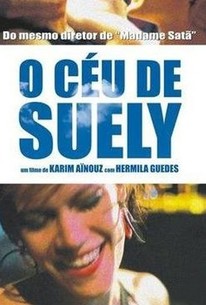 Movie Info
After two years of living in São Paulo, Hermila returns to her village in northeastern Brazil with her newborn son, anxiously awaiting the arrival of her husband. Time passes slowly and the wait becomes an even heavier burden as she begins to realize that she's been abandoned. Her distress increases as she renews a relationship with an old boyfriend before deciding that she doesn't want to relive the past. Determined to raise enough money to escape her stifling hometown, she comes up with an unlikely prize to raffle off--one conceived during her chats with newfound friend and local prostitute, Georgina. Hermila adopts the name Suely, an act that distances her from her family and her past and signals the beginning of her journey toward new, open horizons.
Critic Reviews for O Céu de Suely
Audience Reviews for O Céu de Suely
I saw this with English subtitles. I did not find it outstanding, but worth watching. Is it a comment on the few choices a Brazilian woman has - especially one with a child? Her husband abandons her, and she is left to raise their son with no income in a dead town - even his mother is no help.
½
[font=Century Gothic]"Love for Sale" starts with Hermila(Hermila Guedes) returning to her hometown of Iguatu from Sao Paulo with her newborn son but without Mateus, the boy's father, who has promised to follow soon. But it becomes clear that will not be the case and Hermila gets involved with an old flame, Joao(Joao Miguel). That is not enough to make her stay, so she launches a fundraising plan by raffling off a night with herself...[/font] [font=Century Gothic][/font] [font=Century Gothic]"Love for Sale" is a provocative little drama that is quite straightforward. I do not know if what Hermila does is prostitution(she thinks no, since it's a one time deal) but I would not condemn her in any case nor does the film. But the citizens of the town do, much more harshly than Mateus for the abandonment of his family which is far worse. Either Hermila does not recall how life in a small town works(she uses an assumed name but her dyed blonde hair makes her easily identifiable) or she is just defiantly burning her bridges.[/font]
O Céu de Suely Quotes
There are no approved quotes yet for this movie.