O Pioneers
(1991)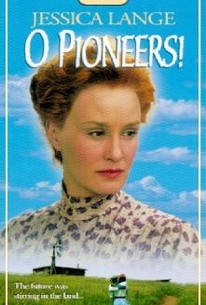 AUDIENCE SCORE
Critic Consensus: No consensus yet.
Movie Info
Based on the Willa Cather novel, this Hallmark Hall of Fame telefilm stars Jessica Lange as Alexandra Bergson, a single woman who inherits her family farm, much to the dismay of her siblings.
Critic Reviews for O Pioneers
All Critics (1) | Fresh (1) | Rotten (0)
A wonderful and winning screen adaptation of Willa Cather's novel set in Nebraska at the turn of the century.

Spirituality and Practice
Audience Reviews for O Pioneers
½
Fairly literal translation. Not bad, but very Hallmarky in production values. Focused on Alexandra's story. Felt very true to the original novel, I can see why the Cather Foundation sells it in their bookstores.
Samantha Shada
½
Melodrama on the Great Plains I've read some Willa Cather, but it was not this and it was more than fifteen years ago now. There was a made-for-TV adaptation of the one I've seen, starring Neil Patrick Harris no less, but it doesn't appear to be available on DVD. Instead, we are starting the letter "O" with this. I cannot particularly speak to its accuracy to the book, and I don't remember the book I did read well enough to speak much to the similarity of style. However, I remember some about the feel of it, and I think they got that pretty well right. Oh, it's funny that the homestead is surrounded by corn when Our Heroine speaks so passionately about how hard it was to get the locals to grow wheat instead, but we manage. The point is that this is the great sweep of America, the lives of immigrants who came to the Midwest a century and a half ago and shaped Our American Heritage. Even if this isn't what Willa Cather is, it's what I remember Willa Cather to be. Alexandra Bergson (Jessica Lange) has been working on her family farm since she was Heather Graham. Her father (Cork Ramer) died, and because she was the oldest, he put her in charge. He said that Alexandra knew what he wanted, and she would do it. Her mother (Deborah May) made her promise that she would make sure her youngest brother, Emil (Daniel Franklin Hatch), makes something of himself. So he grows up to be Reed Diamond and goes away to college. As a boy, he is in love with Marie (Amanda White); Alexandra loves Carl Linstrum (Josh Hamilton). However, Marie grows up to be Anne Heche and married to a dour farmer, and Carl goes away and comes back as David Strathairn. Alexandra becomes the center of her small community, and she is as tied to the land as any of them. She grows alfalfa when no one else is; she grows wheat when everyone else is growing corn. And she thrives, for all it isn't a good time or place to be a strong and independent woman. Really, half or three-quarters of the cast is people you look at and think, "Wow, they were young." Even when they weren't--David Strathairn was forty-three. Anne Heche wasn't that far off from her relationship with Ellen DeGeneres and subsequent meltdown. I don't know; maybe it's in part the film quality, which makes the whole thing look older than it is. However, it was also one of those productions full of minor but quality actors (and, you know, Anne Heche and Reed Diamond, who will always be Amy's Annoying Boyfriend from [i]Judging Amy[/i] to me), the kind of thing [i]Hallmark Hall of Fame[/i] used to do in the days before the Hallmark Channel. Back when they would take classic American literature and a handful of talented performers and make a made-for-TV-movie out of it that would, as I recall, generally air on a Sunday night. Probably after [i]Murder, She Wrote[/i]. I mean, I could be wrong, but I think this thing actually aired on network. Though probably CBS, which has long had an old feel itself. I'm not sure our nation has truly reconciled itself with how much of its heritage is urban. At the same time that this movie is set, my own ancestors, some of them, were living on Long Island. However, when we think of the People Who Built America, we generally think of more the kind of people out of Willa Cather than [i]Gangs of New York[/i], for all they are not at dissimilar times. Willa Cather herself grew up in Nebraska, and she was writing what she knew as so many young writers are instructed, rightly or wrongly, to do. She wrote about pioneers because she knew pioneers. She knew farms and farmers, people for whom the difference between clover and alfalfa hay was vital. As I recall, the book of hers that I read wasn't bad, but I suspect a lot of the reason our teacher thought it was worth reading in a college history class was a belief that we needed to know about the farms as Our American Heritage. Though we also read [i]The Jungle[/i] in that class, so. However, I have to say that I felt this movie was a little too full. I don't know; I haven't read the book. Come to that, I don't know how long the book is, so maybe some of the plot stuff I felt was glided over will be better expressed there. I don't know, for example, why Marie married her farmer. Maybe she was tired of waiting for Emil, but why Frank (Leigh Lawson)? Then, there's Ivar (Tom Aldredge). He seems harmless enough, so how on Earth did Alexandra's brother describe him to a doctor in such a way as to make that doctor think Ivar was potentially dangerous? Or is is intended to make us dislike doctors? (It's certainly true that psychology wasn't even in its infancy yet!) I suppose there's also the aspect that Willa Cather thought we'd all know just how much legal control Alexandra's brothers would have had over her, which is an awfully important aspect of the story toward the end, there. Still, it's not all that bad a movie for all that, and certainly I could see lots of ways for it to have been worse.
Edith Nelson
O Pioneers Quotes
There are no approved quotes yet for this movie.
Discussion Forum
Discuss O Pioneers on our Movie forum!