The Shop On Main Street (Obchod na Korze)
(1966)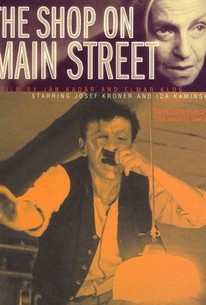 The Shop On Main Street (Obchod na Korze) Photos
Movie Info
The 1965 Oscar winner for Best Foreign Film, The Shop on Main Street (Obch o Na Korze) stars Josef Kroner as Tono Briko, a slothful Slovakian carpenter. The time is World War II, and the occupying Nazis are nationalizing all Jewish-owned businesses. To please his ambitious family, Tono takes the job of "Aryan comptroller" for a rundown button shop managed by an elderly Jewish woman (Ida Kaminska). He realizes that his new job won't bring much in the way of money; the old woman, deaf as a post, realizes nothing, not even that a war is on. The shopkeeper's Jewish friends, knowing that the woman will be carted off for extermination if she doesn't have an Aryan coworker, offer to pay Tono if he'll stay on as her assistant. Kroner and the old woman form a friendship, but when the order goes out that all Jews be rounded up, he panics and prepares to turn her over to the Nazis. His last-minute change of heart unfortunately comes too late. In contrast to the tragic denouement of the film, Shop on Main Street closes on a idyllic, dreamlike sequence, showing the smiling shopkeeper and clerk walking together through the countryside, free from all danger and fear.
Critic Reviews for The Shop On Main Street (Obchod na Korze)
Audience Reviews for The Shop On Main Street (Obchod na Korze)
A Czech man takes over a Jewish-run business at the behest of the town's Nazi occupiers. Filled with tense, ethical quandaries, this film is absolutely remarkable. As Tono takes over an elderly woman's shop and learns the Jewish community that supports her, his prejudices wane, but there is still a gulf between belief and action - a gulf that I suspect infected many in the wake of Nazi atrocities. His weak-willed inability to stand up for others and his pride-busting benefits from his job present him with serious ethical questions that he ultimately fails to resolve. The performances by Josef Kroner and Ida Kaminska are as compelling as actors can be, and the direction by Jan Kadar and Elmar Klos is blithe and compelling. Overall, this is one of the finest films I've ever seen about WWII.
Jim Hunter
Super Reviewer
Brilliantly acted but so very, very sad.
½
The struggle to maintain a loyalty born out of an unusual friendship in the midst of war and racial persecution is explored with subtlety and great melancholy.
Pierluigi Puccini
Super Reviewer
The Shop On Main Street (Obchod na Korze) Quotes
There are no approved quotes yet for this movie.