Obitaemyy ostrov (The Inhabited Island)
(2008)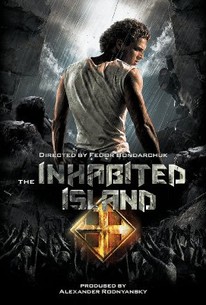 AUDIENCE SCORE
Critic Consensus: No consensus yet.
Obitaemyy ostrov (The Inhabited Island) Photos
Movie Info
A young astronaut crash-lands on a totalitarian planet where the citizens suffer under cruel medieval living conditions despite the highly advanced weaponry and technology developed by their leaders in this ambitious sci-fi action thriller from director Fyodor Bondarchuk. The year is 2157: Maxim was on a mission in deep space when his ship crashed on an unknown planet. Upon discovering that he will never be able to return home, Maxim joins forces with a local girl and her brother in an attempt to overthrow the planet's totalitarian system. ~ Jason Buchanan, Rovi
Critic Reviews for Obitaemyy ostrov (The Inhabited Island)
There are no critic reviews yet for Obitaemyy ostrov (The Inhabited Island). Keep checking Rotten Tomatoes for updates!
Audience Reviews for Obitaemyy ostrov (The Inhabited Island)
Obitameyy Ostrov (Feodor Bondarchuk, 2008) Thirty minutes into Obitameyy Ostrov (released in English-spaeking countries as The Inhabited Island), I was wondering idly when they would introduce a plot and stop trying to wow us with the wonders of the admittedly well-spent special effects budget. The plot did appear soon after thatâ"but unfortunately, it turned out to be a kind of mash-up of Equilibrium and Babylon A.D.. So I decided to ignore the plot altogether and just try to be wowed by the special effects a la Casshern. Yeah, it didn't work too well here, either. The plot... well, I can't really tell you, to be honest. It has to do with a guy who crash-lands on a âprimitiveâ? (read: twentieth-century) planet and becomes embroiled in a rebellion against the planetary government. At least, as far as I can tell. The fact that the approach I'm advocating to this film, which is based on a novel by the Bondarchuk brothers (whose Roadside Picnic was made into one of the best films of all time, Andrei Tarkovsky's Stalker), involves ignoring the plot entirely is deeply depressing. It's obvious that the source material could be done far, far better than it was, and you'd think a director as normally talented as Bondarchuk (1814) would have had some sense of how to approach it given that the ghost of Uncle Andrei is standing right behind him... but no. Instead, we get a sci-fi special effects extravaganza worthy of Michael Bay or Kiriya Kazuaki. In other words, if you love movies where lots of shit blows up and you can turn your brain off, you'll find this a good deal of fun. But don't go in expecting the next Stalker or you'll be as disappointed as I was. **
Robert Beveridge
Pretty good. A guy lands down on an alien planet and pretends to be one of them. He's kind of a bad ass at fighting, but you only get to see him fight hand to hand a few times. The planet is pretty corrupted and messed up, so our hero tries to join the resistance to restore it. (The plot is pretty damn generic, yes, but the action and look of this were pretty good).
John Trifiletti
Stemming from the Strugatsky brothers' novel by the same name, Fyodor Bondarchuk's Inhabited Island falls short of expectations.
Set in the year 2157, the plot for this science fiction picture is really difficult to put together. There aren't enough explanations or descriptions for a number of things, although the pieces do slowly fall into place as the 1 hour 50 minute film progresses. Still, it is a task to connect the dots. It's almost as if reading the novel is a requirement.
There is a moderate amount of action and the choreography for the hand to hand combat isn't too bad. The are a lot of slow motion-speed up shots during these scenes as well. The rest of the explosive action is also decent enough to entertain.
The futuristic setting is the highlight of the film. The combination of CG effects and live action designs work well to create the technologically advanced city for the story to unravel.
The characters are a tad uninteresting and this relates to the poor storytelling. Vasily Stepanov seems out of place, even though his character is possibly meant to be this way.
Inhabited Island does have the story concept and visuals to be a great science fiction adventure. It also has the ending to set up the sequel. It is just too bad that some of the other things drag it down.
Obitaemyy ostrov (The Inhabited Island) Quotes
There are no approved quotes yet for this movie.
Discussion Forum
Discuss Obitaemyy ostrov (The Inhabited Island) on our Movie forum!