The Object of My Affection
(1998)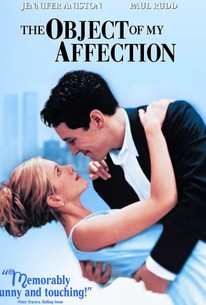 The Object of My Affection Photos
Movie Info
Nicholas Hytner (The Crucible) directed this Wendy Wasserstein screenplay, adapted from Stephen McCauley's novel, about the romantic mismatch of a gay man and a young pregnant woman. When literary agent Sidney Miller (Alan Alda) and his wife Constance (Allison Janney) have a dinner party, Constance's social-worker stepsister Nina Borowski (Jennifer Aniston) attends without her lawyer boyfriend Vince McBride (John Pankow). Also present are gay schoolteacher George Hanson (Paul Rudd) and his lover, Dr. Robert Joley (Tim Daly). George learns from Nina that he's being dumped by Robert, a scene ensues, and Nina then invites George to stay in the spare room of her Brooklyn apartment. Nina still has sex with boyfriend Vince, but during late-night talks, she begins to bond with her gay roommate. Nina and George take dance lessons at the local senior citizen's community center, and Gershwin's "You Were Meant for Me" sets the tone for romance as the two become soul mates. Unfortunately, shortly after their love blooms, Nina learns she's pregnant by Vince, who is no longer the object of her affections. Instead of telling the unwanted Vince right away, Nina asks George to join her in raising the child. George stays on, but in the months that follow, he also begins to see men again. Robert takes him along to a Connecticut conference where drama critic Rodney Fraser (Nigel Hawthorne) has Paul James (Amo Gulinello) in tow. George and Paul have an instant attraction, and this prompts everyone involved to reassess their emotional commitments. ~ Bhob Stewart, Rovi
People Who Like this movie also like
Critic Reviews for The Object of My Affection
Audience Reviews for The Object of My Affection
½
Jennifer Aniston made some interesting choices in taking movie roles in the nineties, before she became queen of the agitating awful rom-coms. This indie comedy, about a social worker and her gay roommate, shows them having a strained relationship while also dealing with their own love lives. I'm torn on whether or not I genuinely like this film, because the characters are enjoyable to watch, and the way they maneuver between the blurred lines of sexuality is interesting, but the way sexual orientation is depicted leaves me cold. So many films have tried to characterize sexuality as a spectrum that involves men who are gay experimenting with women to a point of domesticity. This was done successfully on "Will and Grace" and the same concept was exploited in "Gigli" but to an outside observer it rarely makes sense. Here, at least, it's clearly defined that George has no interest in a sexual relationship with Nina, and just wants to help her raise her child, but Nina is unaware, which tilts perspective. This film handles its characters' motivations rather well and shows the dysfunction in their relationship with aplomb, but it would be great for once to see a gay man and straight woman be friends without the added drama of sexual tension. Otherwise it's a sweet little film that explores modern day relationships and their many layers.
Spencer S.
Super Reviewer
½
This glossy, unusual romantic comedy is great with the appealling cast including Jennifer Aniston and Paul Rudd.
Dean McKenna
Super Reviewer
½
A pretty good movie, though I did feel a bit disappointed in the end but it was the proper way to end it I suppose. Good to watch if you're in the mood for something emotional I suppose.
The Object of My Affection Quotes
| | |
| --- | --- |
| Rodney Fraser: | I don't think one should be too hard on oneself if the object of one's affection returns the favor with less enthusiasm than one might have hoped. |