Objective, Burma!
(1945)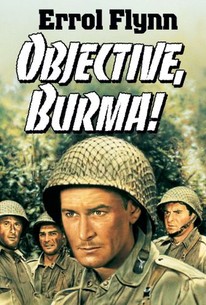 AUDIENCE SCORE
Critic Consensus: No consensus yet.
Movie Info
A few corny moments aside, Objective Burma must rate as one of the best combat films of WW2. Errol Flynn stars as Captain Nelson, who leads a hardy band of paratroopers behind enemy lines in Burma, for the purpose of destroying a Japanese radar station. Their mission accomplished, Nelson and his men prepare to make their escape by plane, but this proves to be impossible. It is therefore necessary for the surviving paratroops to make a grueling 150-mile journey by foot through the Japanese-held jungle, in hopes of eventually reaching their own lines. With the exception of Henry Hull, who delivers a mannered, strained performance as an Ernie Pyle-like war correspondent, the performances are uniformly excellent, with Flynn, George Tobias and William Prince standing out. Director Raoul Walsh and cinematographer James Wong Howe stage the combat scenes (filmed on the "Lucky" Baldwin Santa Anita ranch) with brutal efficiency, showing little but conveying a lot in the way of gore and carnage. The strangest sequence (at least to modern viewers) has the paratroopers expressing horror and disgust at a vicious sneak attack by the Japanese-which occurs only a few reels after the Americans have staged an equally merciless attack on a Japanese unit! In England, Objective Burma was taken to task by newspaper journalist who felt that the Americans were unfairly taking full credit for the success of the Burmese campaign. The ensuing hue and cry compelled Warner Bros. to issue an apology, and to withhold the British release of the film until 1952, at which time it was accompanied by a lengthy prologue title extolling England's contribution to the Burma invasion. Originally released at 142 minutes, Objective Burma is usually shown on TV in its 128-minute reissue form. ~ Hal Erickson, Rovi
Rating:
NR
Genre:
, ,
Directed By:
Written By:
In Theaters:
On DVD:
Runtime:
Studio:
WARNER BROTHERS PICTURES
Critic Reviews for Objective, Burma!
All Critics (2) | Fresh (1) | Rotten (1) | DVD (1)
The director alone should tell you all you need to know about this Errol Flynn set: Raoul Walsh.

Classic Film and Television
Audience Reviews for Objective, Burma!
Sure it is exciting and gets the troops going but it is a film of its era..something created to rally the troops in the last years of the conflict in Asia but without full artistic merit.
John Ballantine
Super Reviewer
We jump out of planes and guys shoot at us. A platoon is sent into Burma to destroy a Japanese radar station during World War II. The execution of their mission could save many lives and ultimately lead to helping the air force identify strategic bombing locations; however, once in Burma the platoon will struggle to make it out and back to safety. "Even if my mother in-law is in one of them it's a great site." Raoul Walsh, director of A Private's Affair, A Lion is in the Streets, White Heat, Cheyenne, Hot for Paris, and The Monkey Talks, delivers Objective Burma. The storyline for this movie is fairly good and contains fascinating characters. The script and premise is interesting but fairly common for the war genre. The cast delivers excellent performances and includes Errol Flynn, James Brown, William Prince, George Tobias, and Henry Hull. "There were some moments there I wished I was someplace else or anywhere else for that matter." We continue to DVR Errol Flynn pictures and my wife discovered and recorded this movie. I found it entertaining but pretty standard for the genre. I did thoroughly enjoy the characters but didn't find it particularly unique. Overall, this is an entertaining picture for the genre but nothing remarkable. "When you're dealing with monkeys you've got to expect a few monkeys." Grade: B
Kevin Robbins
Any one who has ever liked any of the "team flix" made about WWII (Guns of Navarrone, Dirty Dozen, etc.) should watch this. Not only as one of the first ones, it is seminal, but is truly better than anything ever made since. It is extremely gritty, raw and yet full of spirit and admiration for the super-human task these men did. It's not only entertaining, it is also morally right. A great film.
Ben Gui
Objective, Burma! Quotes
There are no approved quotes yet for this movie.
Discussion Forum
Discuss Objective, Burma! on our Movie forum!