Occupation: Dreamland
(2005)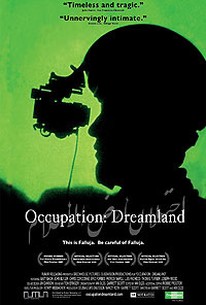 Occupation: Dreamland Photos
Movie Info
'Occupation: Dreamland' is a melancholy portrait of a squad of the US Army's 82nd Airborne deployed in the doomed Iraqi city of Falluja during the winter of 2004. A collective study of the squad unfolds as they cope with an environment of low-intensity conflict and confusion creeping steadily towards catastrophe. Through the squad's activities, 'Occupation: Dreamland' provides a vital glimpse into the last days of Falluja before a final series of assaults began in the spring of 2004 that effectively destroyed the city. The result is a revealing, sometimes surprising look at Army life, operations and the complexity of American war in the 21st century.
Rating:
NR
Genre:
,
Directed By:
In Theaters:
On DVD:
Runtime:
Studio:
News & Interviews for Occupation: Dreamland
Critic Reviews for Occupation: Dreamland
Audience Reviews for Occupation: Dreamland
6/30/16 Sundance Doc Club Another look at how screwed up our policy to invade Iraq was. Does a pretty good job of showing the frustration our soldiers endure and the hate we generate among the populace by kicking in their doors in the middle of the night, how would we feel if that was happening in our cities. Soldiers have a duty and a mission given to them by politicians and they do a great job doing that mission. Politicians should be required to see movies like this before they decide to invade a country.
Nick Ueber
The documentary is fair and poignant, and doesn't rely on explosions. You feel for the people involved, even though they are far from the best sort. It has very good editing and indicates a dedicated post-production. There are a lot of elements of artistry in the film, and the parallels are exploited. This film does a good job of combining its artistic and temporal aspects. It doesn't say much that isn't known, however. I still recommend it, though, if you have some spare time.
Jason Dennis
Occupation: Dreamland (2005: dir. Ian Olds, Garret Scott): 6/10 [img]http://i10.photobucket.com/albums/a120/bosox5429/Directors/Garrett%20Scott/2005occupationdreamland.jpg[/img] *1 Ian Olds Film Seen* *1 Garrett Scott Film Seen*
Justin Bell
Occupation: Dreamland Quotes
There are no approved quotes yet for this movie.
Discussion Forum
Discuss Occupation: Dreamland on our Movie forum!