October (Ten Days that Shook the World)
(1928)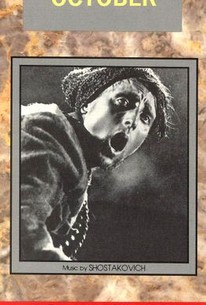 Movie Info
Better known as October and/or Ten Days That Shook the World this Sergei Eisenstein classic re-creates the final days of the Soviet Revolution. While simplistic stereotypical characterizations keep the film from becoming involving on an emotional level, the spectacle and visuals are typically brilliant and complex.
Critic Reviews for October (Ten Days that Shook the World)
Audience Reviews for October (Ten Days that Shook the World)
Eisenstein's mastery is still apparent when telling an historical story, but the compelling aspect of it decreased throughout as the convolution increased to the point of being lost. (B-) (Full review coming soon)
Kyle Mobray
½
October is a silent film from Russia that is mostly still notable because of some of the most advanced editing and camerawork of its time. The story is just another Battleship Potemkin (of course the same director is at the helm) but the story is so dated an unengaging that keeping your mind on the film and not something else winds up being a big task.
Jonathan Porras
[font=Century Gothic][color=red]October(or Ten Days that Shook the World) is a powerful, passionate, exciting reenactment of the 1917 Revolution from the fall of the Tsar to the storming of the Winter Palace in St. Petersburg. This was directed by Sergei Eisenstein on the tenth anniversary of the Soviet Revolution. I'm not an expert on Russian history, so I cannot really comment on its accuracy but I can say that it does favor Stalin's worldview - it does slight Trotsky at one point and I think it's unfair to think of Kerensky wanting to be a new Tsar, when his worst sin was not pulling Russia out of World War I, which would have given the country a chance to recover.[/color][/font]
October (Ten Days that Shook the World) Quotes
There are no approved quotes yet for this movie.
Discussion Forum
Discuss October (Ten Days that Shook the World) on our Movie forum!