Octopus
(2000)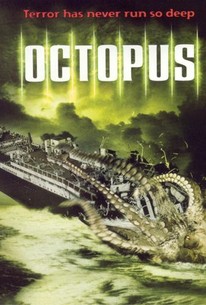 AUDIENCE SCORE
Critic Consensus: No consensus yet.
Octopus Videos
Octopus Photos
Movie Info
Sailors in the course of a dangerous mission are confronted with a new kind of terror in this monstrous thriller. A terrorist wanted in several nations is captured by authorities and sent to America to stand trial. The criminal is being transported aboard a heavily guarded submarine, in hopes of foiling any escape attempts, but the sub is forced to pass through "the Devil's Eye," a region at sea where a number of ships have been lost. The submarine's crew soon learns the secret of "the Devil's Eye" when the ship is attacked by a giant, prehistoric octopus. In the confusion, the terrorist escapes to a passenger ship, and the crew must find the fugitive as they fend of the vicious sea creature. Octopus stars Jay Harrington, David Beecroft, and Carolyn Lowery.
Rating:
PG-13 (violence)
Genre:
, ,
Directed By:
Written By:
In Theaters:
On DVD:
Runtime:
Studio:
Trimark
Cast
Critic Reviews for Octopus
All Critics (2) | Fresh (0) | Rotten (2) | DVD (2)
Horrible. Rotten. A waste of time.


Audience Reviews for Octopus
A mix of action and monsters, this film really seems to have no idea about where it's going. The characters are uninteresting, the octopus isn't really frightening and the computer effects are awful, and the ending drags on for a bit too much.
Wes Shad
½
For a movie called "Octopus", there's a lot going on here, and some of that even has to do with a large killer animal. There's an unusual amount of plot for a movie of this nature, so much so that the titular animal doesn't even make an impact on the proceedings for a full half hour. This film is much more concerned with a terrorist being transported back to the United States in a submarine of all things after blowing up an U.S. Embassy. I guess it's an important plot device since it's impossible for an octopus to pick off people one by one in a submarine, no matter how clever he may be. The special effects are typically shoddy, with CGI replacing imagination once again, further signaling the downfall of movies on the whole. It's just one more buzz killer in this ridiculous, deathly dull picture. The impending meeting between the sub and the luxury cruise liner shows promise for pulling the movie out of the doldrums, but that is a let down once again. Again, it's marred by sub-standard special effects. And it's only five minutes out of an overlong film that seriously could have used some editing. The screenwriters try to salvage it by injecting some much-needed humor into the dialogue during the last half hour, but it's too little too late. It just feels out of place in a movie that was serious to the point of absurdity for the first two-thirds. You just have to wonder why they filmmakers thought it would help at that point in the game. For a movie like this, campy fun was the only way to go, and there's nothing fun abut "Octopus". The title creature is an afterthought at best, and he has very little screen time.
Timothy Sanders
½
This is a B+ movie, but only as pertains to the B-movie scale. There are many questions regarding the story. Why is a military sub being used to transport a questionably high value internationally criminal target? Why use a military sub for mapping and research? Why is there a game of strip poker in the middle of a control room? Why is there a civilian woman on the sub? Well, this is a B-movie, so all of this is for the sake of creating action and excitement. All of these things factor into enough silly action to keep the octopus attacks coming. There are plot holes and continuity and logic errors everywhere, but it keeps an interesting pace to it all and has this bizarre terrorist bombed slant that is ridiculous, and just right for this story. Plus, it does a great thing in taking the climax out of the water. Overall, a very good effort for a B-Movie, and this gets the B-Movie A+ of 3.5 stars.
Lee B
Discussion Forum
Discuss Octopus on our Movie forum!
News & Features