Octubre
(2011)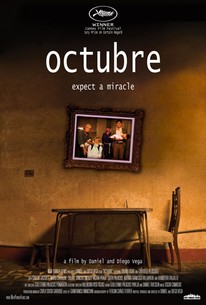 Movie Info
New Yorker Films is pleased to present the US Theatrical release of OCTUBRE (October), the first feature film from brothers Daniel and Diego Vega. An official selection at Cannes Film Festival-Un Certain Regard and winner of the Jury Prize, OCTUBRE is a deadpan dark comedy incorporating influences ranging from Jim Jarmusch and Aki Kaurismaki to Robert Bresson. An official selection at numerous international festivals, including Toronto, Palm Springs, Karlovy Vary, and the upcoming 2011 New Directors/New Films, OCTUBRE will open in New York at Lincoln Plaza Cinemas and Angelika Film Center on May 6. A national release will follow. October is the "purple month" in Lima, when the grey city's somber tones give way to processions celebrating the Lord of Miracles. Hope is reborn among the throngs of devotees who light candles and follow the processions, each in search of their own miracle. Tucked away in one of the Lima's modest flats lives Clemente, a small time loan shark with a penchant for reckless hookers, grave solitude, money lending and nothing else. Stuckin a shallow routine, Clemente lacks any real emotional connection to anyone. People, in turn, refer to him not by name, but as "the pawnbroker's son." Whether it's a slippery counterfeiter, an amiable thief or a desperate neighbor, Clemente is sensitive only to what their business might bring him. Returning home one day, Clemente quickly realizes that an intruder has visited his home-not to steal from him, but instead to leave him with a little gift. Tucked in a small basket sitting on his bed Clemente finds a newborn baby, the product of one of his frequent liaisons with prostitutes. When Clemente finds himself ill-equipped for his new role, Sofia, one of his clients and an October worshipper, intervenes to help him take care of the baby while he goes in search of its mother. As the days stretch on, with Sofia and the baby sharing his home, Clemente discovers emotional attachments he never thought he had. And as seems fitting during the month of October, with its air of hope for better things, a once unpleasant, cold and lonely man named Clemente finds that his life is about to change. --(c) New Yorker
News & Interviews for Octubre
Critic Reviews for Octubre
Audience Reviews for Octubre
½
A subtle and well crafted dark comedy about a loan shark whose life is stuck in a rut until he finds a newborn baby abandoned in his bedroom, a product of a liason with a prostitute. Uses deadpan humor to shade its tale of redemption with humanity and understated emotion. An unexpected joy.
Matthew Lucas
Super Reviewer
Octubre Quotes
There are no approved quotes yet for this movie.
Discussion Forum
Discuss Octubre on our Movie forum!