Off the Menu: The Last Days of Chasen's
(1997)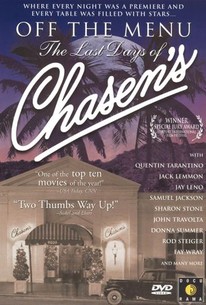 AUDIENCE SCORE
Critic Consensus: No consensus yet.
Movie Info
For fifty years, Chasen's restaurant and bar was the gathering place for Hollywood's elite, U.S. presidents and royalty. Famed for its paneled ambiance, world-class chili and its legendary Hobo Steak, it was where the rich and powerful were free to orchestrate complex deals, hash out conflicts or simply relax in understated elegance. In 1996, after nearly a decade of slow business due in part to increased diet consciousness, and also to the appearance of newer, trendier eateries, Chasen announced that it would close. Many of Tinseltown's brightest lights past and present appeared for the gala send-off which is chronicled in this documentary feast. In addition to featuring plenty of star-gazing, it also features poignant reminiscences from Chasen's staff, many of whom have worked there for decades.
Rating:
NR
Genre:
,
Directed By:
In Theaters:
On DVD:
Runtime:
Studio:
Lobo Grande Pictures
Audience Reviews for Off the Menu: The Last Days of Chasen's
Even those who mourn the passing of such classic, elegant & exquisitely stylish MidCentury venues will probably find this film to be a bit tedious after about the first half hour. In that sense, it's kind of like a high school video yearbook: to REALLY enjoy watching it, you would have had to been there. At first, it is so very promising, this story of the closing of of a restaurant that, for decades, was a regular stop for all of Hollywood to see and be seen. Glimpsing into the innards of such a classy venue, filled with red-vested and bow-tied waiters, huge circular leather banquettes, flaming foods tableside. And Hollywood stars, loads and loads of Hollywood stars. At the tables, streaming across the carpet at the front door, hanging inside autographed pictures on the walls. And even more promise. We start getting to know the staff, da boyz that have been running the place for decades, who start to titallate the viewer with 'inside stories' about Chasen's famous clientele. The head waiter shows dozens of pictures of himself posing with them. Johnny Carson. Jimmy Stewart. The Pope. Yes, The Pope. Then a visit to the bar to see the house signature drink "Pepe's Flame of Love" martini slowly concocted for a drooling Ed McMahon. That takes the viewer about 35 minutes in. Unfortunately after that, the whole story starts to run dry. Very very martini dry. The banquet manager starts making catty comments about all the other employees, including Pepe. Bore-ing. Viewers want to know why the place is going dark ... but no answers are forthcoming. The juicy gossip from the staff stops flowing and instead they seem to spend more and more time sitting around a table snorting Johnny Walker. And griping about how they, the cogs that turned the place, are getting shafted. Then everyone and anyone keeps using the word 'sad,' - as in 'this is all so very sad' - hundreds and hundreds of times. The unemployment office sends someone over to read everyone the riot act. Finally, on closing night, all the stars pour back into the joint - only because this is THE place to be seen on this particular night - and as the night progresses the whole scene becomes more morose and maudlin. The help gets teary and sappy - in front of diners who stopped caring and eating the place a long time ago. When it's over, all the employees walk out, leaving dirty dishes and uncleared tables in place. That's it, the place is closed. Fin. Such a sad day for everyone. It IS truly sad to see such venues of good taste, high service, quality, craftsmanship and refinement drift away into the fog of history. And worse, to be replaced by faux shallow imitations that seem to easily fool the current generation. If only this telling of such matters had been more compelling. RECOMMENDATION: If you miss the high style and good taste of MidCentury modern, as I do, check it out. But when the film starts to drag, cut your losses.
TonyPolito Polito
Off the Menu: The Last Days of Chasen's Quotes
There are no approved quotes yet for this movie.