Off World
(2012)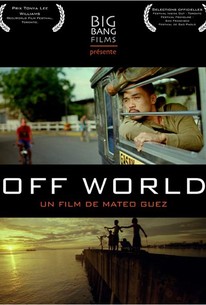 AUDIENCE SCORE
Critic Consensus: No consensus yet.
Movie Info
Delving deeper into the subject matter of Director Mateo Guez' 2009 Contact Toronto Photography exhibit of the same name, Off World is an ethereal, occasionally disturbing portrait of one of The Philippines' most notorious slums. Though fictional, Off World plays like a documentary, following a young Toronto man named Lucky, whose life is utterly transformed during a journey to his birthplace of Smokey Mountain. Once known as the Kingdom of Tondo, Smokey Mountain is now one of the most densely populated urban landscapes in the Philippines; a vast slum surrounding a mountain of garbage 12 storey's high, named for the methane gases that leak continuously from refuse accumulated over the course of more than half a century. Here, where entire families eke out a meager living as scavengers, Lucky grapples with the echoes of his past in an attempt to define himself and reconcile his comparatively affluent Canadian upbringing with the hard-bitten existence of the children of Smokey Mountain. Guided by Julia, a worker at a local NGO, Lucky discovers a living brother who has managed to escape the life of a scavenger, but still lives in the slums surrounding the dump. Without revealing their relationship, and in an effort to fill the gap between them, Lucky immerses himself in the culture of Smokey Mountain and his brother's life, uncovering still more tangible links to his past. Finally revealing himself to the family he had no idea still existed, Lucky finds more than just the answers to his questions about his origins. He uncovers a spirit of hope and a rare beauty that grows wild even in the most squalid corners of our world; ultimately bridging the distance between the life that lies before him, and a past he only narrowly escaped. The beauty uncovered by Lucky is enhanced as much by the stunning visual compositions of Guez and DOP Francois Dagenais, as by a score composed by Toronto based music and new media producer Byron Wong. Featuring an almost exclusively Filipino cast and crew, and depending heavily on the participation of the inhabitants of Smokey Mountain, Guez' much anticipated feature debut refuses to dwell solely on the poverty endemic to the area. Rather than coarsely begging viewers to change the world, it challenges us to refine our view of those who are less affluent than we are, to celebrate the common ground that exists between us, and to re-examine both our own level of participation in the world at large, as well as our angle of approach to it.
Critic Reviews for Off World
All Critics (2) | Top Critics (2) | Fresh (0) | Rotten (2)
It would be interesting to see what Guez, a director who clearly knows his way around a camera, might be able to do with a few charismatic actors.
Off World is marred by compromises in quality that probably come down to economic constraints, and lock first-time director Mateo Guez into decisions that give his film the odour of desperation.
Audience Reviews
There are no featured reviews for Off World at this time.
Off World Quotes
There are no approved quotes yet for this movie.