La Historia Oficial (The Official Story)
(1985)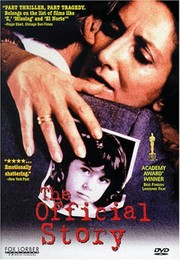 Tickets & Showtimes
La Historia Oficial (The Official Story) Trailers & Photos
Movie Info
This is an emotionally gripping, fictional look at a couple torn apart by the infamous Argentine campaign of killings and torture that sent thousands of accused terrorists to unmarked graves in the mid-and late-'70s. Alicia (Norma Aleandro) and Roberto (Hector Alterio) adopted a little girl (Analia Castro) during this period of governmental terror in Argentina. Alicia has always wondered about the parents of their little girl, a topic her husband has forced her into forgetting as a condition of the adoption -- he alone knows the full story. Thanks to censorship, Alicia -- like others -- is not fully aware of how much killing has gone on until her students at school start complaining that their textbook histories were written by murderers. Add to this a long conversation with a friend who had been in exile after she was tortured by the government, and Alicia starts to do some serious political and personal research on her own. The results reveal the identity of the little girl's dead parents and reveal that Alicia's husband has had a nasty hand in the government repression and dirty dealings with foreign businesses. She also learns the identity of the girl's grandmother. Her next decision will determine what to do with this information. ~ Eleanor Mannikka, Rovi
more
Cast
News & Interviews for La Historia Oficial (The Official Story)
Critic Reviews for La Historia Oficial (The Official Story)
Audience Reviews for La Historia Oficial (The Official Story)
A schoolteacher searches for her adopted daughter's origins.
Beginning as a film about how teachers teach/indoctrinate the state's dominant paradigm, the film quickly shifts focus to the teacher's family life. We learn that it is likely that her daughter was procured by illegal or immoral means by her government official husband. Bourgeois versus "common man" sympathies becomes the main conflict for the family and the film. Thus, The Official Story is a heady drama, one that ultimately condemns the upper classes by revealing violence hidden beneath the veneer of respectability.
I don't think I could appreciate the film as much as a native Argentinian because of my limited knowledge of their history; I've seen Evita and paid attention during World History in high school, but that's about it, and many of the oblique references to past military leaders was lost on me.
The drama also unfolds slowly. There are long zooms and pans and numerous shots of the main character looking pensive.
Overall, I think there's a lot to like about The Official Story, but it's not for all audiences, especially my classmates who fell asleep during World History and failed to see Evita.
Jim Hunter
Super Reviewer
½
It takes a very intimate story and allows us to see through a small crack all the horror and tragedy suffered by a whole nation. Overwhelming.
Discussion Forum
Discuss La Historia Oficial (The Official Story) on our Movie forum!
News & Features