Offscreen
(2006)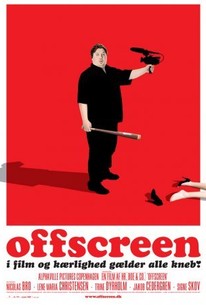 AUDIENCE SCORE
Critic Consensus: No consensus yet.
Movie Info
A struggling independent filmmaker desperate to salvage his failing marriage becomes dangerously obsessed with documenting his relationship in director Christoffer Boe's harrowing glimpse into one man's dark mental descent. Nicolas Bro (Nicolas Bro) is an actor who uses his handheld camera as a means of making the outside world a more tolerable place. When his best friend Christoffer (director Boe) suggests that Nicolas film every aspect of his life as a means of breaking his stifling inhibitions, Nicolas determines to capture a real life love story on camera as he attempts to win back his wife Lene. Though initially an amusing distraction, Nicolas growing penchant for filming the most intimate aspects of his personal life finds him becoming increasingly distanced from the real-world repercussions of his actions. Now, as Nicolas reverts ever deeper into the stories of his past and eschews the outside world in favor of documenting every minute detail of his life, his loose grip on reality begins to slip with frightening consequences. ~ Jason Buchanan, Rovi
Rating:
NR
Genre:
, , ,
Directed By:
In Theaters:
Runtime:
Critic Reviews for Offscreen
All Critics (3) | Top Critics (1) | Fresh (2) | Rotten (1) | DVD (1)
Despite escalating lunacy, result still feels like an empty aesthetic exercise or filmmaking in-joke.
[Director] Boe and co-writer Knud Romer Jorgensen move what could have been a self-indulgent mess unpredictably as their star continues to lose his grasp on reality and find a way to make a satisfying story.
The film's final scenes show in what genre you might end up if you start relying too much on a film to sort out your life. Hint: it is not pretty to look at.

Audience Reviews for Offscreen
DIY filmmaking is bigger than ever before, thanks to online outlets where any wannabe can showcase what they shot with their personal camera and edited with some chintzy program that came with their computer. The Blair Witch Project helped cultivate a specific type of psuedo-documentary, wherein the characters in the film control the camera while the action takes place. The Danish film Offscreen blurs the line between reality and the script in the most successful way since that 1998 horror hit. Director Christoffer Boe loans a camera to actor Nicolas Bro so that Bro can make a documentary on love, specifically his relationship with his wife (Lene Christiansen). The film opens with Bro running naked, blood-soaked down darkened avenues with the camera in tow, pointed directly at his own face. We are told that Bro has disappeared, and Boe has assembled all of the footage we see from the tapes that Bro shot to create this documentary. We discover that Nicolas Bro and Lene are not the perfect couple that Bro would have you believe them to be. Bro's intended film is meant to draw their crumbling marriage closer together, but Bro's obsessive filming and clingy, uncomfortable ways of showing affection drive Lene away. From that point on, Bro almost makes the camera his surrogate lover, devoting all of his time and energy into filming the grand love story that he simply won't let go of, at one point hiring an actress to play Lene and reenact their marriage with a happier ending. Bro is profoundly pathetic and his decline as he loses everything, all due to his reluctance to put down the camera, is chronicled in heart-wrenching detail. It's the most realistic film about a socially retarded loner since Taxi Driver, and the worst part is that Bro is just adept enough at social situations to have had friends and lovers. When Lene leaves him, whatever social instincts he had disappear over the film's running time. By the end, which reveals the truth behind the shocking footage from the start of the film, Bro is an empty shell of a human, no longer aware of anything but the camera and his own misery. I don't know anything about Boe or Bro, but they've created a bold, dramatic film that is at times, supremely uncomfortable to watch. Offscreen is brutally realistic, and it is easy for anyone that has had their heartbroken for no evident reason to relate to Bro. That hook makes it easy to get drawn into his story, and all the more squirm-inducing as things get worse and worse. You really do wish someone would just go take care of the guy–snatch his camera away and nurse him back to good mental health. That doesn't happen in Offscreen.
John Gholson
Offscreen Quotes
There are no approved quotes yet for this movie.