Oh! Soo-jung (Virgin Stripped Bare by Her Bachelor)
(2000)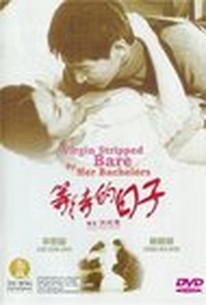 AUDIENCE SCORE
Critic Consensus: No consensus yet.
Movie Info
Virgin Stripped Bare by Her Bachelors was writer/director Hong Sang-soo's (Turning Gate) third feature, and his first to be released on DVD in the United States. As the black-and-white film opens, a wealthy young man, Jae-hoon (Jeong Bo-seok), arrives at a hotel room, and examines it while he waits for a woman to join him. Soo-jung (Lee Eun-ju of Tae Guk Gi) phones him after a while, and tries to get out of their planned tryst. They argue on the phone. The film then flashes back to show us, in numbered and sometimes titled episodes, how the relationship between these two characters developed. Jae-hoon was working as an assistant to a struggling filmmaker, Young-soo (Mun Seong-kun of A Petal). After several social engagements, Jae-hoon suggests to Young-soo that he might be interested in financing his next film. Jae-hoon begins to pursue Soo-jung, who keeps him at bay for a while. But Jae-hoon is persistent, and eventually, she relents. She lets him know that she is a virgin. Eventually, it becomes clear that Young-soo also has a romantic interest in Soo-jung. Jae-hoon gets jealous, and he and Young-soo get into a big argument, but they patch things up, and make plans to go to an expensive hotel on Cheju Island where, presumably, they will have sex. At the film's midway point, Hong returns us to the first chapter, and we are taken through the story again, with many changes to the action -- some subtle and some more severe. The film's English-language title is an apparent reference to Marcel Duchamp's artwork, "The Bride Stripped Bare by Her Bachelors, Even." The original Korean title is the far more prosaic Oh! Soo-jung. ~ Josh Ralske, Rovi
Critic Reviews for Oh! Soo-jung (Virgin Stripped Bare by Her Bachelor)
There are no critic reviews yet for Oh! Soo-jung (Virgin Stripped Bare by Her Bachelor). Keep checking Rotten Tomatoes for updates!
Audience Reviews for Oh! Soo-jung (Virgin Stripped Bare by Her Bachelor)
½
Oh! Soo-jung (The Virgin Stripped Bare by Her Bachelors) (Sang-soo Hong, 2000) Oh! Soo-jung was Sang-soo Hong's third film; since then he has directed over a dozen more, most of them much better-known. (Those on this side of the pond probably know him best for 2004's Woman Is the Future of Man.) That is, in general, early on in a director's career, but Hong had already gone quite a long way toward mastering the subtleties of relationships; this is a fun little movie, amusing and pointed in one breath and bitter in the next, about humans and the foibles that occur when they interact on any meaningful level. You've seen two hundred movies like that in the past month, probably, especially if you're a devotee of the Lifetime or Hallmark movie channels, but Hong's senses of subtlety and propriety blow all that stuff out of the water. This would normally be where a plot goes, but there's not much plot to be had in this simple slice-of-life story detailing the on-again-off-again romance between videographer Soo-jung (Unborn but Forgotten's Eun-ju Lee) and gallery owner Young-soo (Green Fish's Seong-kun Mun). Hong instead focuses on character development, letting the story grow organically over a series of encounters, rather than driving the relationship towards its ultimate goal. That's how it feels, at least, which makes this something quite masterful if it was scripted; it feels far more like Four-Eyed Monsters than it does When Harry met Sally.... I want to tell you this movie is a comedy, but that would plant too many expectations in your head. But it is funny, although Hong's sense of humor here is alternately gentle enough to miss if you blink and black enough to make you wonder if you should be chuckling at all. I want to tell you it's a romance, as well, and perhaps that part is a little more obvious, but this is not a Hollywood romance. It's not even an Ozu romance, and when it comes to realistic depictions of human relationships, it's hard to beat Ozu. But Hong's warts-and-all approach to this relationship manages to let us see the warts without focusing on the warts (and anyone who doesn't get the difference needs to watch Ozu's brutal Tokyo Story for a good example of the latter, though the relationship is familial rather than romantic there). It's quite a balancing act, the kind where Hong is on a tightrope AND keeping plates spinning, and he pulls it off tremendously. If the film has a fault, it's that it's such a quiet, unassuming little thing that it fell well below anyone's radar; released in America it probably would've been passed off as mumblecore or something. Don't make the mistake of missing it-this is very good stuff indeed, possibly great (I've been going back and forth in my head for weeks whether to kick it up to four stars, since it landed very high in the 3.5s when I added it to the 1000-best list). See it, and sooner rather than later. *** 1/2
Robert Beveridge
A very well shot and acted film. The real beauty lies in how truthful the romance is. The love scenes are clumsy and will not look sweet and touching to an onlooker. These moments are specific to those involved and in the end that is real love. The story has two sides and we see each of them. There are some discrepancies between the two and some similarities. It seems as though each partner wants credit for the blossoming of the romance, like there is some kind of award. It hints at a slight selfish nature about loving one person. The film is slow in it's unraveling, but goes by fairly quickly. Like love itself, be patient and look for the small details that make it worthwhile.
Luke Baldock
Super Reviewer
Oh! Soo-jung (Virgin Stripped Bare by Her Bachelor) Quotes
There are no approved quotes yet for this movie.
Discussion Forum
Discuss Oh! Soo-jung (Virgin Stripped Bare by Her Bachelor) on our Movie forum!