Om Shanti Om
(2007)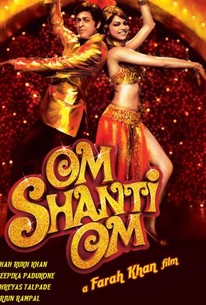 Movie Info
Love and dreams follow two starry-eyed actors across three decades and two incarnations in this splashy Hindi musical. It's the early '70s, and Om Prakash Makhija (Shah Rukh Khan) is a young would-be actor who has been playing bit parts in Bollywood musicals while looking for his big break. Om's ambition is to become a film star and win the heart of beautiful screen siren Shantipriya (Deepika Padukone), and his pal Pappu (Shreyas Talpade) and his mother, Bela (Kirron Kher), both encourage him not to give up on his dreams. One day, Om meets Shantipriya on a movie set, and he feels as if destiny is finally smiling on him, but when he overhears her having an argument with studio chief Mukesh Mehra (Arjun Rampal), Om senses things are not as they should be. Before Om can decide what to make of his misgivings, the studio burns to the ground, claiming the lives of Om and Shantipriya. Thirty years later, a bit of Om's spirit seems to live on in Om Kapoor (also played by Shah Rukh Khan), a popular film actor with a large ego and a fear of flame who was born the day the old studio burned down. Despite his fame, Om is lonely, at least until he meets Sandhya (also played by Deepika Padukone), a shy but eager would-be actress looking for her chance to become a star. Om Shanti Om was directed and co-written by Farah Khan, who was a top choreographer in the Indian film industry before moving up to the director's chair, and features guest spots from a number of Bollywood's greatest stars, a few appearing in the form of digital recreations taken from films of the '70s.
Critic Reviews for Om Shanti Om
Audience Reviews for Om Shanti Om
Om Shanti Om gave me that good movie vibe I felt while watching The Lion King. An creative and emotional murder tale filled with excitement. This film had all the ingredients to The Masterpiece Formula and was very well made. I usually compare movies to paintings. But this film was so good I compare this film to my grandmother's magical tea. All the right ingredients, and incredibly put together. Om Shanti Om - comedy, drama, fantasy, action, adventure, almost every single genre properly put together in a piece of art. +1 genre neutral +1 Shah Rukh Khan's extraordinary performance +1 Creative, unique, original idea +1 Strong story, emotional tale +1 Well put together, very well made This film is creative and excellently put together. 5/5. A must see Bollywood film.
Owen Lamar
This movie is amazing I think I have seen it at least twenty times! You will go on a serious emotional rollercoaster
Tara Webster
Not as good as I'd expected from Farah Khan, having liked her debut film as a director "Main Hoon Na" very much. Yet, not an absolute crap.
familiar stranger
Super Reviewer
Om Shanti Om Quotes
There are no approved quotes yet for this movie.
Discussion Forum
Discuss Om Shanti Om on our Movie forum!