Omg Oh My God!
(2012)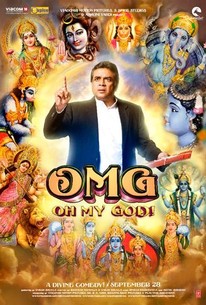 AUDIENCE SCORE
Critic Consensus: No consensus yet.
Movie Info
Kanji Mehta is an atheist, who runs an antique shop. For him, god and religion are nothing more than a business proposition. He buys old looking god and other religious idols, which he usually sells as 'antique' idols at double or triple, and sometimes even 10 times its original price. Well, it's not his fault really, is it now? The life has gone on for kanji and his family like this, and would have sailed smoothly for him in the future as well, but for that one fine day, when a slight tremor of an earthquake shakes the city. The earthquake itself doesn't cause any concern to anyone, and would have hardly been of any consequence, but for one small problem... it causes the destruction of only one shop in the entire city... Kanji's shop!!!... -- (C) Official Site
Critic Reviews for Omg Oh My God!
All Critics (2) | Fresh (2) | Rotten (0)
OMG walks a fine line between sermonizing and entertaining and has long patches of super-preachy kitsch. Yet the subject is so compelling that you come out with a smile on your face and perhaps a decision to open up your holy text.
Shukla's fable takes its sweet time getting off the ground but ultimately proves to be an utterly adorable, nicely humanistic riff on the role of religion in an everyman's life.
Audience Reviews for Omg Oh My God!
½
I've been an atheist for, at least, more than half of my life. It's something that, once I hit the age of reason, which would be around your teen years, I decided that religion and the existence of god were incompatible with the world I see around me. While you can never say never in this life, I'm certain that I will never become a born again Christian. There are just too many things in this universe that can kill us, stellar black holes, gamma ray bursts, and solar expansion for one, that it's increasingly difficult to believe that this is all part of an intelligent design. With that out of the way, I was intrigued by this film's premise enough to give it a shot, knowing the fact that, at the end, it was more likely than not going to end up with Kanji finally believing in god. As far as I could tell from this movie, India is a very religious country. Probably due to the vast poverty a lot of people find themselves in that they see their religions as their only form of hope and/or happiness. So it was interesting to see how this film would broach that subject and whether it would really hit hard against religion. While this isn't India's equivalent to a Bill Maher/Richard Dawkins/Christopher Hitchens rant on religion, it still was a pretty ballsy move for, what seems to be, such a conservative country. Essentially, while the film does focus on Kanji's atheism and his insistence that god(s) doesn't exist, the film focuses more on the business side of religion. The side that people like the priests presented in the movie choose to exploit. They exploit people's spiritual needs for their own gain, not actually following the tenets of the gods they all worship. I think the film shines more of a spotlight on the charlatans attached to religion, a man-made thing, than on god(s) not being real. And I suppose that that's the easy way out. You attack religion but not the idea of god and, to me, that's kind of an easy way out to be perfectly honest. Like you're afraid of the backlash if you launch a full-out attack on god. And, to be honest, this was probably written by someone who was disillusioned by people who've used god for their own financial needs and not to help the people that need it most. They build extravagant temples, wear lavish clothes, and they abuse of people's needs. So it was really more an attack on these charlatans as much as it was on the idea of god. With that said, the writing of Kanji is pretty decent because while, being an atheist, and being presented as a hustler at the beginning, he hardly comes across as an unlikable person even in his search for compensation from god for the loss of his shop. He makes a lot of good, rational arguments that even religious people would agree with and he's a charismatic presence. So it was good to see that he wasn't presented as an out-and-out asshole. The film's last act is absolutely preposterous and really does take a bit away from what the film had been trying to achieve. Kanji has a stroke in the middle of the courtroom, which leaves his left side paralyzed, the priests, with help from Kanji's friend and employee, make it so that Kanji is said to actually be god, in order to financially capitalize on his popularity and his standing up for the people who really needed it. It was absolutely ridiculous turn of events. Then again, with the motorcycle scene here, you'll know the one, it shouldn't have surprised me. And, of course, there's the obligatory song and dance scene that is one of the reasons I've consciously avoided many Bollywood films throughout the years. It doesn't even make sense within the context of the film, they say it's part of a festival, but it's bullshit. It serves absolutely no real purpose and the thing is that it takes about 5 minutes of screen time. I realize that may not be much, but it is way too long. Trust me on this one. Particularly when the film could, and should, have been much shorter. It's not as insufferably long as some of these films tend to be. But for this, I think 2 hours is much too long for this type of story. Honestly, I'm not the type of person that's gonna hate a film with religious inclinations, unless it's one of those terrible, preachy Kirk Cameron films, if it's good. The problem with these Kirk Cameron films is the fact that anyone who opposes them is instantly wrong or the enemy. Like God's Not Dead, the main villain is an atheist professor who probably sees the error of his ways at the end and breaks down crying at his "mistakes". At the very least, this film doesn't try to force a religious message down your throat and it presents an atheistic character, for the most part, as reasonable and likable. The ridiculous climax, however, where they literally deify Kanji, really took it down a notch for me. This is average at best. Not good, not bad. The film offers some solid writing and acting and some decent comedic moments. Decent Netflix watch if you've got nothing else to do.
Jesse Ortega
Super Reviewer
½
November 21, 2012 With enough witty dialogues & a better scripting, "OMG: Oh My God!" could have been a highly entertaining ride. The movie starts interestingly, but fails to maintain the tempo. The entertainment level keeps depleting as the movie unfolds. The ending is disastrous. Akshay Kumar's character is created lousily, and his weak performance only makes it worse. Paresh Rawal is okay, but Mithun and Mahesh Manjrekar act as showpieces. Keep your expectations lower than reasonable, and you may be satisfied with a few laughs the movie manages to deliver. My expectations were a bit higher than 2.5/5 herein. *Add-it (on August 25, 2014) --> Better try "The Man Who Sued God" IF you're not so fond of Bollywood movies. Otherwise, OMG is not that bad a remake. Of course, as said earlier, it could have been a bit more entertaining.
familiar stranger
Super Reviewer
½
This Bollywood comedy was recommended to me by my RT friend and finally I got it. I wasn't aware, before watching it, that this is the Indian version of the Australian film "The man who sued God" with Billy Connolly. Directed by Umesh Shukla, the movie is based on a Gujarati play called Kanji Virudh Kanji (literally Kanji vs. Kanji), and as I mentioned the plot is almost identical to that of the Australian film. Box Office India declared the film a Superhit after its three week run and it is understandable with actors like Paresh Rawal in the lead role and Akshay Kumar in a cameo as Lord Krishna; along with Mithun Chakraborty, Lubna Salim, Poonam Jhawer, Govind Namdeo, Mahesh Manjrekar, Nidhi Subbaiah, Murli Sharma and Om Puri in supporting roles. Of course, the director couldn't miss the opportunity to have stars like Prabhu Deva and Sonakshi Sinha and he gave them a chance to appear in the song "Go Govinda". It is well balanced movie, suitable for all ages. Starts really well but later loses a little bit of the tempo and drags for a while. I don't think that the cinema audience would mind because in Indian cinemas there is an Interlude and maybe this slower tempo was a preparation for the rest, drink or popcorn! Whatever is the need... I needed nothing and this was one of the downs in a movie over 2 hours long. The arguments are much better developed than in the Australian version where the focus was more on the legal implications! Very brave in the approach of answering questions fearlessly. I enjoyed it... even as a remake... I hope you'll do the same!
Omg Oh My God! Quotes
There are no approved quotes yet for this movie.