On the Bowery
(1957)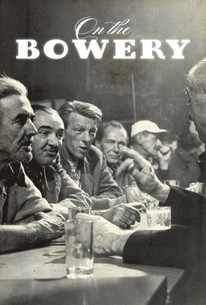 On the Bowery Videos
On the Bowery Photos
Movie Info
New York, the 50s, stark, sharp, beautiful black and white: men sleeping on the street, on park benches, in doorways (one reading an old Esquire stretched out on a pushcart); men being rousted by the cops, being kicked out of bars, arguing at the top of their lungs; men listening to patently sincere pep talks from recovered drunks at the mission, marking out their spots on the floor for the night with newspapers, looking up through the chicken wire ceilings over their beds at the flophouse: three days in the life of straight-from-the-road Ray Salyer, still good-looking and well spoken, a new arrival on the Bowery. Taken in hand by old-timer Gorman Hendricks, a puckishly charming bull slinger, Salyer goes on two benders, quits twice, hops on a truck for a day job, but finally states, "Me, I only care for one thing." Wealthy scion of a major fabrics firm (and later owner/operator of the Bleecker Street Cinema), Lionel Rogosin found himself drawn to world injustice, then, starting close to home, spent six months hanging out on the Bowery and environs (parts of which included today's SoHo), often under the tutelage of Hendricks, a cirrhosis of the liver sufferer who held off from a fatal last bender until the end of filming. Shooting for four months with cameraman Richard Bagley (The Quiet One), Rogosin staged scenes improvised from a sketchy story line, alternating with sequences taken by hidden cameras - all with non-professional Bowery denizens. The result: Best Documentary, Venice Film Festival and an Oscar nomination for Best Documentary Feature, along with critical attacks from the likes of Bosley Crowther and Clare Booth Luce for showing the dark side of America. --© Film Forum
Rating:
NR
Genre:
, ,
Directed By:
In Theaters:
On DVD:
Runtime:
Studio:
Critic Reviews for On the Bowery
Audience Reviews for On the Bowery
it's a tough film to watch but an important one too. rogosin was one of the first independent filmmakers in america. his first film shows a bygone skid row section of new york and the men who sleep in missions and on the streets, slaves to demon rum
Stella Dallas
Super Reviewer
The docufiction "On the Bowery" is best viewed as a look back at a time and place that no longer exists when derelicts would congregate on The Bowery underneath the Third Avenue Elevated tracks in Manhattan. Ray(Ray Salyer) has just returned from far flung New Jersey where he was working on the railroads. Once back in town, he goes drinking with Gorman(Gorman Hendricks). Together, they sell a pair of Ray's pants to get a room for the night but Ray does not make it that far, passing out on the street where he is not alone. Seeing an opportunity, Gorman steals his suitcase which contains Ray's prized fob watch. One way that "On the Bowery" goes wrong is in its unconvincingly staged action(Ray never mentions his lost suitcase again) in a moderately successful attempt to mimic Italian neorealism, according to the making of documentary that followed(I didn't stay for the whole documentary since dinner and a train were calling).(Also mentioned is that the filmmakers were very knowledgeable about alcohol, preferring a watering hole in Greenwich Village.) Even with non-professional actors and real locations, director Lionel Rogosin could not quite match the evocative power of those films due to the slightest of storylines which has little to say on the human condition.
Discussion Forum
Discuss On the Bowery on our Movie forum!
News & Features