On Borrowed Time
(1939)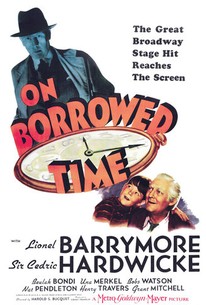 AUDIENCE SCORE
Critic Consensus: No consensus yet.
Movie Info
Old Gramps (Lionel Barrymore) is not about to go gentle into that good night when Mr. Brink (Cedric Hardwicke), who sometimes travels under the name of the Grim Reaper, comes calling. Through a ruse, Gramps chases Brink up a tree in his garden, rendering the mysterious stranger helpless. As a result, no one dies throughout the world, and disease and misery runs rampant. Dispassionately, Mr. Brink decides to "reach" Gramps through his beloved grandson (Bobs Watson). He talks the boy into climbing the tree and then suffering a crippling fall. Realizing that the only way he can stem his grandson's pain is by surrendering to Mr. Brink, Gramps does so--and discovers that Crossing Over wasn't as painful as he thought. Together with his grandson, who has likewise expired, Gramps joyfully strolls into a most pastoral-looking Heaven. The final shots of Lionel Barrymore walking into Paradise under his own power represent a triumph of misdirection and special effects. In truth, the wheelchair-confined Barrymore was placed on a treadmill, and merely simulated his walking movements as a process screen enhanced the illusion; for long shots, a double was used. While Barrymore's performance naturally dominates On Borrowed Time, Cedric Hardwicke is equally effective in the role of Mr. Brink (his favorite role). A great early vignette finds a consumptive motorist (Hans Conried) offering Brink a lift; the latter waves the motorist on, politely saying "No, not yet." On Borrowed Time was based on the novel by Lawrence Edward Watkin and the popular Broadway play version by Paul Osborne.
Critic Reviews for On Borrowed Time
There are no critic reviews yet for On Borrowed Time. Keep checking Rotten Tomatoes for updates!
Audience Reviews for On Borrowed Time
½
When I sat down to watch this film, I had every expectation that with the exception of a few well-placed, well-delivered lines coming from Mr. Barrymore, it would simply be 99 minutes of my life gone forever with absolutely nothing having been gained or benefited by its viewing. How wrong I was. A big thumbs up to "On Borrowed Time". Though the film was made nearly 3/4 of a century ago, it held up. From the very beginning, the appearance on screen of a "Foreword", so lost today but so expected of a generation raised on books and classic literature, immediately alerts the viewer that something of significance is about to follow. Where else might one ever hope to see the word like "perchance" on screen except in a great old film? The sudden appearance of Mr. Brink, ably played by Cedric Hardwicke, surrounded by shadowy trees and shot in such a way as to frame these early shots in darkness, was yet sprinkled with a dark humor, most notably the coughing young Samaritan who stopped to help but was not being signaled "quite yet". The introduction of Demetria played by Eily Maylon, seemed at first tragic and sympathetic. But "Aunt Demi's" true nature was soon revealed when at the news of the sudden death of her sister her sorrow seemed mostly driven by the loss of a promised trip to California. I was right about one thing prior to seeing the film, Lionel Barrymore's well-placed, well-delivered lines. Even here though I was wrong about there being a few. His performance was stellar throughout. He delivered a Julian Northrup, aka Gramps, who could easily have come off as a cliché or caricature in the hands of a lesser actor. Barrymore made him real. Barrymore's Gramps was curmudgeonly, funny, serious, rude, sensitive, aloof and caring, often all within a single scene. Add to the overall solid acting a storyline that carried us easily along the way, and even threw in a bit of a twist. It was completely obvious to me that young Marcia Giler would end up with Pud and that she, her beau and young Pud would inherit the place and live happily ever after enjoying that hammock Gramps mentioned. Instead (Spoiler Alert) -- almost all of the good folks die! What kind of a happy ending is that? I'll tell you, it's a great one. Part of me wants to scour the internet and find someone's production of Paul Osborn's original screenplay on stage just as it was written. Yet still, a bigger part of me says if it ain't broke, don't fix it. "On Borrowed Time" was indeed 99 minutes very well spent.
Wilson Trent
½
I've never really heard of this title before, but judging from the reviewers at IMDb and Amazon.com - it's a much beloved film. It certainly has a very interesting allegorical premise which piqued my curiosity - about an old man who is able to "trap" Death up an apple tree! It also stars Lionel Barrymore and Cedrick Hardwicke - so I was expecting a treat. The story certainly took some unexpected twists...and the ending is meant to be uplifting - but...I don't know - there is just too much in this film that rubbed me the wrong. I didn't enjoy it as much as I thought I would. It's not so much that the film is saccharine - because I can take and enjoy saccharine every once in a while (yes, I love those early 30's Shirley Temple films - it's a gooood ship, Lollipop...yeah, THAT kind of saccharine) - but ON BORROWED TIME's brand of saccharine got on my nerves...!!! Mr. Brink (Cedrick Hardwicke), aka Death, has come for Mr. Julian Northrop (Lionel Barrymore)...but Mr. Northrop is not ready to go just yet. He has his sickly wife, Nellie (Beulah Bondi) and young grandson, "Pud" (Bobs Watson) to look after. Pud's parents were recently "acquainted" with Mr. Brink in the opening scenes. Nellie feels that they are too "old" to properly care for Pud and that maybe they should relinquish guardianship to the spinster aunt, Demetria. Demeteria has gotten wind of the tidy sum of money left behind by Pud's parents (his dad was a successful doctor)...so she has some ulterior motive for wanting to take care of little Pud. Remember the crotchety Miss Almira Gulch from THE WIZARD OF OZ? She and Demetria were actually separated at birth! Both Pud & grandpa Julian hate her guts and call her a "pismire". "A pismire is the meanest ant there is...", explains grandpa Julian. Get it?...ant...aunt!!! Oh I like Lionel Barrymore's performance okay...but his character certainly spoils the child rotten so I never really connected with Pud - who I found just plain annoying most of the time in a bratty kid sort of way (and this coming from one who loved Jane Withers performance in BRIGHT EYES - the mother of all bratty kids)!!! Pud's waaay too spoilt and a big cry-baby brat. Yes he is! Oh, yes he is!!! He is too a brat!!! The ending is very cliched - which sometimes works for me depending on how good the story was...but in this case, doesn't IMO. ------------------------------------------------- THE FOLLOWING MAY BE SPOILERS...SO READ ON WITH CAUTION: Where were Pud's actual parents? Was Pud's life with his grandparents happier than with his actual parents? Except for maybe grandma Nellie, nobody else seems to mourn anybody's passing during the film. Doesn't Demetria inherit the money after all? Bah...some imponderables from "where the woodbine twineth."
bernard anselmo
½
What a fascinating storyline, as only MGM could do it. The cast is fabulous. Lionel Barrymore, Beulah Bondi and Una Merkel all excel. Cedric Hardwicke is very memorable. The writing is excellent, so imaginative and different. Quite unforgettable.
James Higgins
On Borrowed Time Quotes
There are no approved quotes yet for this movie.
Discussion Forum
Discuss On Borrowed Time on our Movie forum!