On Golden Pond
(1981)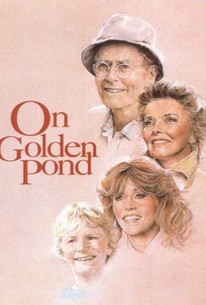 Movie Info
There's little that happens in On Golden Pond that isn't thoroughly predictable from the start, but the film is blessed with so much star power, charm and honest sentiment that everyone in the audience is willing to ignore the cliches and go the distance. In his last film, Henry Fonda plays Norman Thayer, a cranky 80-year-old retired professor, making his annual pilgrimage with his wife Katharine Hepburn (in her only teaming with Henry Fonda) to their New England summer cottage. Their solitude is interrupted when the couple's daughter Chelsea (Jane Fonda) arrives with her fiance Bill (Dabney Coleman) and his son Doug McKeon in tow. It takes a while, but Jane Fonda and Coleman, about to go on a vacation of their own, persuade Henry Fonda and Hepburn to take care of McKeon. Henry Fonda and the kid dislike each other from Square One, and it looks as though this summer (which may very well be Henry Fonda's last) will be a depressing experience. Gradually, Henry Fonda and McKeon grow to love one another; their bond is strengthened during a near-fatal accident while fishing. It is through the warm relationship between Henry Fonda and the boy that the old man and his daughter Jane Fonda are at last able to display affection towards each other--the first time they've done so in years. Gorgeously photographed by Billy Williams, On Golden Pond is a wonderful valedictory for Henry Fonda, who died not long after the film's completion; Katharine Hepburn has less to do, but few can do so much with so little. Academy Awards were bestowed upon Henry Fonda, Hepburn, and screenwriter Ernest Thompson (who adapted the film from his stage play).
People Who Like this movie also like
News & Interviews for On Golden Pond
Critic Reviews for On Golden Pond
Audience Reviews for On Golden Pond
½
An aging couple cares for their estranged daughter's stepson. This is probably the nicest, sweetest, most wholesome film about death ever. The primary conflict, Norman's fear of death and his unfinished business, is treated with such a light-heartedness that the film takes on a dreamy pastoral quality. By itself, the film could be charming, able to deliver insight about going into the night with a smirk rather than a frown, but the film's conflict is complicated with the entrance of Norman's daughter. I understand that the conflict between Henry and Jane Fonda informs the film's contemporary interpretation, but as it plays today, there needs to be more setup than Chelsea's weeping into her mother's arms about Norman's placidity. The film's highlights are the performances. Even Jane Fonda is exceptional, and Katharine Hepburn plays the ideal, strong-willed grandmother, a woman all of us should want guiding our lives. Henry Fonda's Oscar win was deserved. Overall, it's hard to imagine so many ducks and landscape shots in a film about the inevitability of death, but at times, not often, On Golden Pond pulls it off.
Jim Hunter
Super Reviewer
On Golden Pond may have a very straight forward story about a couple growing old together as they now live on "Golden Pond", a quite little place on the water where family and friends come to visit. As their daughter brings her new fiance to visit, they are blessed with a 13 year old grandson, who is a stubborn little kid at first sight, but as charming as anyone could possibly be on the inside. The performances are significantly brilliant and the actions of each character will have you in a universe of mixed emotions. For Norman Thayer, his life is not too far from finished and he will do anything with his arrogant comedic-like attitude to relive his childhood by becoming best friends with his grandson. This truly is a basic story, but the writing, the acting, the events, and the outcome is so touching and moving that I can call it a masterpiece. This is surely "cinema" in all it's glory.
½
With the subject matter circulating around death, failed relationships, and troubled families it would seem that this would be a shouting match waiting to happen. Instead the plot plays coy, reeling you in with the calm wooded surroundings and the fraility of Ethel and Norman in their ripe old age. The underscored drama is just fodder for what is to happen: a coming of age bonding that supplements from Tuesday with Morrie to wow the audience with the family friendly fair all grown up. A wonderful film if ever I saw one.
Spencer S.
Super Reviewer
On Golden Pond Quotes
| | |
| --- | --- |
| Ethel Thayer: | Listen to me, mister. You're my knight in shining armor. Don't you forget it. You're going to get back on that horse, and I'm going to be right behind you, holding on tight, and away we're gonna go, go, go! |
| | |
| --- | --- |
| Ethel Thayer: | "Sometimes you have to look hard at a person, and realize he's doing the best he can." |
| Ethel Thayer: | Sometimes you have to look hard at a person, and realize he's doing the best he can. |
| | |
| --- | --- |
| Ethel Thayer: | Come here, Norman. Hurry up. The loons! The loons! They're welcoming us back. |
| | |
| --- | --- |
| Ethel Thayer: | Listen to me, mister. You're my knight in shining armor. Don't you forget it. You're going to get back on that horse, and I'm going to be right behind you, holding on tight, and away we're gonna go, go, go! |