On_Line
(2003)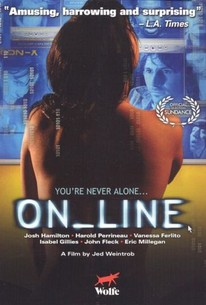 Movie Info
Jed Weintrob directed this look at how Internet sex sites bring people together, while simultaneously keeping them apart. John Roth (Josh Hamilton) and his friend Moe Curley (Harrold Perrineau) spend a remarkable amount of time at Intercon-X, a pornographic website. All of the characters spend a great deal of time in cyberspace. Eventually, John shares a sexual act online with Jordan (Vanessa Ferlito), another regular at Intercon-X. Eventually Jordan and Moe engage in an actual affair, which finally forces all of the characters to deal with each other in the real world, and not just in cyberspace. This film was shot on digital video and was screened at the 2002 Sundance Film Festival.
Critic Reviews for On_Line
Audience Reviews for On_Line
On Line is a movie about a group of ultimately interelated characters that spend a large chunk of their time on the Internet, primarily Internet porn sites. Some of the story lines are weak and the stronger ones aren't completely played out, thus the movie didn't fully grab me. It was fasinating in one respect: I brought viewers into a world that many of them may never be exposed to. While most people will deny it, I would guess that the percentage of adults that spend even a fair amount of time on the Internet have, at one time or another, viewed a porn site. And while most of us probably have only limited experience with this form of adult entertainment, there are many others that are totally engrossed in this world. In fact, many of these people rely on these types of sites for much of their social interaction. On Line takes you into the world of these people and provides a glimsp of what their world might be like. Not a pretty picture.
John Chandler
Most of the action in this 2001 indie drama takes place on computer screens, with grainy faces framed by sharp little boxes; the 21st-century conceit is topical enough but the characters and their problems couldn't be more stale.
Lee Mayo
On_Line Quotes
There are no approved quotes yet for this movie.
Discussion Forum
Discuss On_Line on our Movie forum!