On The Job
(2013)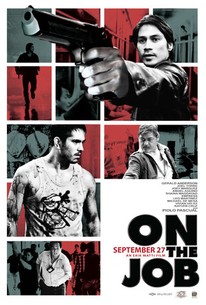 Movie Info
Two prisoners, pulled from the population to carry out high-profile assassinations in exchange for reduced sentences. Two cops, baffled by the rising body count but hot on their trail. Four men, caught in a web of deceit and corruption, on a collision course with the government officials who will do anything to silence them - and no one is safe. (c) Well Go USA
Rating:
NR
Genre:
,
Directed By:
Written By:
In Theaters:
On DVD:
Runtime:
Studio:
News & Interviews for On The Job
Critic Reviews for On The Job
Audience Reviews for On The Job
Let's get back together. In this loosely based true story, Filipino political officials work with the prison system to have certain prisoners released from jail if they will execute political favors as assassins for the political figures. One man is hesitant and does not enjoy killing, but knows if he doesn't execute his mission, he could be the next victim of a fellow inmate. He will try to bring down the system while making it look like he is executing his assignment. "He was hit with an assault rifle in the leg...and other parts of the body." Erik Matti, director of Exodus: Tales of the Enchanted Kingdom, The Arrival, Rigodon, and the upcoming On the Job 2, delivers On the Job. The storyline for this picture is interesting and there are some great shootouts. The acting is okay and the cast includes Joel Torre, Gerald Anderson, Piolo Pascual, and Joey Marquez. "When you are at the top, you can be stiff and rigid like a flag pole." I came across this on Netflix and it seemed like a unique foreign action flick and worth a viewing. Overall, this is fun and has some great action, but isn't as good as similar films in the genre (Andy Lau has a nice run of pictures in this genre). Overall, this is worth a viewing but far from a classic. "Did you count your change?" Grade: C+
Kevin Robbins
½
Kinda confusing storyline with abit too many characters piled onto of each other. You ended up figuring things out just to justify what you were watching to make sense of each scene, though not being sure.
Jason Kraynek
This might be the Filipino equivalent of The Departed, even with that shocking moment at the end of the film that you weren't expecting. If you watched The Departed then you know the one I mean. It's not as shocking in this film, since you're kind of expecting it, but it's a good moment nonetheless. I digress, this is a pretty damn good crime drama from the Philippines with a hint of reality as the events that happened, I'm assuming only the prisoners being let out to kill targets, actually adds an air of authenticity to the film. The film's opening credits feature highlights from real newscasts about the assassinations that were committed by the prisoners. Whether the real life story had anything to do with this story, where the people were being assassinated to get rid of all the underworld connections to facilitate Pacheco's run at the senate without any scandals. The film deals with corruption pretty much on every possible level. Politicians, cops, and even the prisoners trying to protect their positions of power by doing absolutely anything they can to stay right where they are. This is definitely a movie you've seen before, in fact I'm reminded of Elite Squad: The Enemy Within. That film was a grittier portrayal of the underworld, but this film also has that same grit, realism that made Elite Squad such a great movie. The story itself takes a while before it gets going and before the connections to Pacheco start becoming clearer, but the film handles this pacing issues very well and the film just has a confidence about it that ensures that it'll rise above the rest, even if the elements themselves are familiar. The score/soundtrack was also surprisingly good, it helped create tension in some of the more dramatically charged scenes. Another good thing about the story is that while there's no real resolution, none of the guilty parties in this assassination ring ever get charged with any crimes, but the suspicion is there to where you could continue with that if you were ever to do a sequel. But, at the same time, if you don't do a sequel, the story still comes to a satisfying conclusion, because the pressure is starting to mount up on Pacheco and those involved in his assassination ring. So, either way, the film has a satisfying ending. And that's not the only thing that can be picked up on if you were to do a sequel, Tatang's decision to do what he did, as he had lost everything, and the effects that his actions have on his mental state can also be explored in the sequel. Big fan of this film, it's certainly not The Departed, which is a classic, but it's still a pretty great crime drama and hoping to see more films like this, or just quality films in general, come from the Philippines.
Jesse Ortega
Super Reviewer
On The Job Quotes
There are no approved quotes yet for this movie.
Discussion Forum
Discuss On The Job on our Movie forum!