On the Ropes
(1999)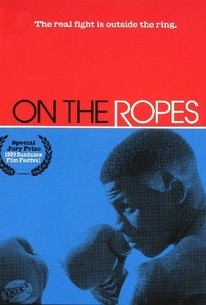 Movie Info
The dreams and struggles of three aspiring boxers and the trainer who works with them (at the same Bed-Stuy gym where Mike Tyson used to work out) form the basis of On The Ropes, a documentary that debuted at the 1999 Sundance Film Festival. Noel Santiago, a one-time gang member, has the skills to be a good boxer, but lacks the conviction to work through the struggles involved. George Walton, a Golden Gloves champ, had his shot at a professional career but lost it at the hands of a crooked manager and is looking for a second chance. Tyrene Manson, a fiercely determined female boxer, sees fighting as her best chance to escape poverty until she's arrested during a drug raid on her uncle's home. And trainer Harry Keitt, a former fighter himself who once sparred with Muhammad Ali, tries to live down a history of alcoholism and a stretch in prison as he walks a fine line between nurturing the talents of the young people he cares for and trying a grab a percentage of the money they could earn as champions.
Rating:
NR
Genre:
,
Directed By:
In Theaters:
On DVD:
Runtime:
Studio:
Winstar Cinema
Critic Reviews for On the Ropes
Audience Reviews for On the Ropes
[color=black]Insider movie news - it's so rare that I have any. Basically, I know nothing about the movie business other than what I read in US Magazine.[/color] [color=#000000][/color] [color=#000000]Except when it comes to Oscar-nominated documentarian Nanette Burstein. Director of The Kid Stays In The Picture, Nanette is my only link to the movie industry. [/color] [color=#000000][/color] [color=#000000]I spoke to her today and learned she is putting together funding for a new documentary about the actors' home in LA, the independent living center for former actors and other movie people. She hopes to start shooting in the spring.[/color] [color=#000000][/color] [color=#000000]Nanette needs about 1.5 million for the project. She has enough to shoot but not edit or, for that matter, market. If you'd like to invest in the project, let me know and I'll put you in touch with her office.[/color] [color=#000000][/color] [color=#000000]Also, she suggested I name my unborn son, I swear to God, Sparky Sparkman Davis. Nanette is a genius but she's not entirely well.[/color] [color=#000000][/color] [img]http://www.offoff.com/radiotv/thumbnails/nanette.2004.jpg[/img]
Loss Leader xxxxxxxxx Jordon S. Davis
½
this is a must-see for boxing fans, but i also believe the casual viewer would enjoy it, i'd rate it a "7" for the non-boxing fan....it's a documentary centering around 3 boxers based out of a gym in the bed-sty section of brooklyn.. one story is the real life "million dollar baby," an amazingly skilled female fighter with a troubled family life leading to her arrest and legal battle..another, and least interesting, is a young hispanic fighter on the fringes, who is less skilled and less serious and it shows...the third story is a 162 pounder who has amazing skill and goes from golden gloves champ to destroying his first few professional opponents, then the story ends and i wonder what happened to him...his skills seemed championship material in the film...at the centerpiece is a crusty old trainer who has never had a champion, he drops numerous pearls of wisdom, but never seems happy...fascinating behind-the-scenes look at the roots and underbelly of boxing
shane m
On the Ropes Quotes
There are no approved quotes yet for this movie.