On The Shoulders Of Giants
(2011)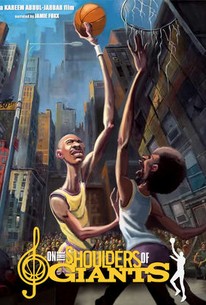 AUDIENCE SCORE
Critic Consensus: No consensus yet.
On The Shoulders Of Giants Photos
Movie Info
This documentary, co-written by basketball legend Kareem Abdul-Jabbar, tells the story of a black professional basketball team known as the New York Renaissance Big Five, shortened to the New York City Rens by all who knew and loved them. Decades before the civil rights movement, this squad overcame racism and financial troubles to become the first black team to capture a national title in their sport. Although society kept them from competing officially against professional white teams for an extended period of time, they did manage to arrange a famous exhibition match against the recognized national powerhouse of that era. The filmmakers use archival footage, interviews with historians, and reenactments in order to share this inspiring sociological and sports story.
Rating:
NR
Genre:
,
Directed By:
Written By:
On DVD:
Runtime:
Studio:
Union Productions
Critic Reviews for On The Shoulders Of Giants
There are no critic reviews yet for On The Shoulders Of Giants. Keep checking Rotten Tomatoes for updates!
Audience Reviews for On The Shoulders Of Giants
Maya Angelou Sure Was a Looker! I do not care about basketball. Not even a little. Never have. It isn't even just that I'm bad at it, though goodness knows I am. It's that I think it's boring. Oh, I freely admit that there is a lot of skill involved, but it still doesn't appeal to me. Mostly, it's a lot of running up and down, so far as I'm concerned. This means that I was hardly this film's ideal audience. It wanted someone passionately interested in the history of the sport and capable of comparing the greats. I can't do that. I don't know who most of these people are. Almost everything I know about Kareem Abdul-Jabbar, one of the writers of this documentary, comes from the Zucker-Abrams-Zucker movies I've seen over the years. I remember when he retired, but I don't remember anything about his playing. It is also true that I had never heard of the New York Rens before I got this movie from the library. However, the synopsis they provided was enough to make me watch it anyway. Simply put, the New York Renaissance was an all-black basketball team in the days of segregated basketball. The glory days of the Harlem Renaissance, in fact. The team originally played out of the Renaissance Casino and Ballroom. The hoops would be moved into place for long enough to play a quick game. They would then be moved out again off the ballroom floor. The end of the 1920s brought with it the end of the Harlem phase of the team's history, and they moved on to barnstorming around the country, playing their most popular games against all-white teams. They suffered for it, especially when they were in the South. As the years went by, they helped deflate the bubble of supposed white superiority by reliably beating the white teams they competed against. There were exceptions over the years, but not a whole lot of them. And all this while being forced to sleep in jails because there were no hotels to take them. The Harlem Renaissance is a fascinating and complicated time in US history. It was a time which produced great creativity; Maya Angelou recites a Langston Hughes poem, for example, accompanied by images of beautiful young black women. (Including an apocryphal Angelou herself, probably from after the team disbanded.) They were also all creative--Dorothy Dandridge, Billie Holliday, Josephine Baker. The creativity was also, strangely enough, fostered by the oppression. Just as weeds find their way through the sidewalk, the poetry and music of the Harlem Renaissance made its way out of the things trying to weigh its creators down. The art of the Harlem Renaissance is a beautiful combination of pride and despair, joy and sorrow. Most of it was made for that specific group of people, not just by it. They were intending nothing but to share their experiences with each other. Thankfully, in doing so, they shared it with us as well, enriching all our lives. Though it's worth noting that a certain amount of what the Harlem Renaissance produced was the equivalent, as the film says several times, of a minstrel show. It wasn't just the Cotton Club, though that was obviously one part of it. While the New York Rens initially played for black audiences in a black club, when they went on the road, it was primarily in front of white audiences. What's more, their eventual "cross-town rival," the Harlem Globetrotters, was in fact created in Chicago to do nothing but perform in front of all-white audiences. They were called "Harlem" Globetrotters because "Harlem," for obvious reasons, signified "black" to audiences in the 1920s and '30s. Unlike the Rens, who were a team put together by blacks and for blacks, the Globetrotters were only ever an act. Oh, in those days, they also played good basketball--but they were still thought of as something of clowns, because they were just intended to be a bunch of guys putting on a show for the people who really mattered--and it wasn't black audiences. I still don't care about the basketball. However, the beauty of this documentary is that it tied the basketball to more important things. This is a story of how basketball intersected with a movement in art and a movement in history, all in one of the greatest creative flowerings of the United States. The New York Rens did a lot with a little. The movie describes the Original Celtics (apparently no relation to the current Boston Celtics) as showing up at exhibition games in their own individual Stutz Bearcats, while the New York Rens clambered off a rickety bus. While touring, they had to put up with all the indignities of any blacks in the US at the time--"colored only" drinking fountains and lunch counters and even ticket windows, even though it was the same agent working both windows. I mean, people put out cigars on these guys. They lived through a really awful, awful time in history, but they also had the wonderful experiences of the Harlem Renaissance. They changed the game--and the country.
Edith Nelson
½
Sensational documentary. Music. Graphics. Story. All first rate. Not just a sports doc. This documentary is a sociological look at African-Americans through the story of a little known basketball team, the Harlem Rens. Must see American film.
Aldo Gandia
Super Reviewer
On The Shoulders Of Giants Quotes
There are no approved quotes yet for this movie.