Once Before I Die
(1965)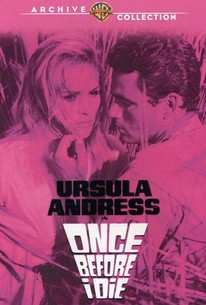 AUDIENCE SCORE
Critic Consensus: No consensus yet.
Movie Info
A WWII drama, this is the story of a small band of soldiers in the Philippines, under attack by the Japanese. They decide to try to escape by fleeing through the jungle, taking with them John Derek's fiancee (Ursula Andress), whose presence causes the complications one would expect. A war-time tragedy, it got its name from the fact that Andress has sex with a virgin soldier.
Rating:
NR
Genre:
,
Directed By:
Written By:
Runtime:
Studio:
7 Arts
Audience Reviews for Once Before I Die
John Derek began his acting career playing killer Nick Romano in the noir classic Knock on Any Door (1949). He ended it playing Capt Bailey, the graying handsome leader of the 26th Calvary in the, so good it should be classic, war film Once Before I Die (1966). Bailey makes one of the damned film entrances of any character in a war film. The year is 1941, the setting the Philippines right before Japanese attack. Bailey and his men are in a large field on horseback playing polo to pass the time. He is waiting for his girlfriend Alex (played by Ursula Andress), a young Swiss refugee that he plans to take back to the states soon, to come play. No sooner than Alex arrives, a Japanese plane bombs the match. The troops manage to get out of there alive. Bailey, Alex, she feels safer with them then in town, and the troops push on, Alex has her puppies in her car so has to leave them with someone. They camp out and then ride horses into a village looking for rations. The soldiers find a villager who is sympathetic to the Japanese and will not give them rations. The soldiers raid his barn, take food and drink. Alex and Bailey get into a small argument about the villager. Soon Bailey spots a teddy bear boxed up in the barn. Wanting to give it to Alex, he reaches for it and accidentally unpins his live grenade. Bailey is dead. Lead actor John Derek has died on film and only a half hour in! If the plot thus far sounds odd, blame it on two factors. First, it is a war film made in the 1960s (jarring music, artful still photographs where an image is paused time and again plus the beauty of Alex superimposed on images of violence give the film a psychedelic feel) war is a hazy time were a lot of crazy shit happens. Second, this is John Derek?s first film as writer/director and cinematographer and his projects always have idiosyncratic plotting. Some usual traits of later Derek films are modified. Opulence, outside of polo maybe being a rich man?s sport, is not displayed. These are grunt soldiers often in the middle of nowhere. As with all the collaborations with Bo, animals figure into the plot (when is the last time in a film that a soldiers kiss was interrupted by yelping puppies falling on his head?) especially horses. A horse is shot (in slow motion) during the polo match attack, probably the dramatic violence in the film. Also, horses are the only reason the soldiers stop in the village. In every scene with a horse the horse is in frame (for more on Derek?s love of horses read the past Derek threads posted above), getting the army for point A to point B. Two more elements figure into a Derek film depictions of machismo and sexuality, usually the later taking precedent over the former. But this is a war film. John Derek was married to Ursula Andress in 1966. She was famous for being a Bond girl, which is maybe not as good as being known as a 10, John had taken some photographs of Ursula for Playboy (as he would later with Bo) and was quite a noted photographer (hence all the still images of Ursula in the film) before he took on directing. Derek is known for capturing beauty and he does right by Ursula in that department As far as being the star, though in every scene, she does not hold attention like Bo does. There are similarities between characters Bo has played and Alex. With Alex, the death of her older lover is akin to the death of Kate?s older lover in Ghosts Can?t Do It or even the death of Jane?s father (since older lovers are often symbolic fathers in Tarzan, the Ape Man). One could even stretch a bit and say Lida?s lover becoming impotent in Bolero is a form of death. The point is the lead character deals with death. In the Bo films, this leads to a strength that character had not shown before, Jane forgoing society to run away with Tarzan, Katie becoming a shark in business and Lida making her lover rise again. With Alex, the death leads her sort of empty. She is less a character, more of a pretty presence that fills in the other characters. If the first third of the picture belongs to John Derek, the rest is dominated by Richard Jaeckel playing a solider named Custer. A note on the above still of Custer, I do not know if Francis Coppola saw this film before making Apocalypse Now, but similar panoramic views, an ending steeped in psychedelia, Custer?s look and crazed attitude, suggest that he may have. Custer is as gung ho as soldiers come. He kills 16 men by himself at one point (gun, knife, hand to hand combat). He is so good superiors think he is shell shocked and making up the numbers but this is not the case. He is a fighter and it is the need to fight that gets every killed at the end of the picture when he happens upon enemy territory and instead of going quietly by, he takes on a great number of enemy soldiers (this sequence is wall to wall violence, faceless men, music blaring so dark its hard to see who to root for, this film must have been something when it come out during the Vietnam War). Everyone except Alex dies. Custer (fittingly) takes down the last of the enemy soldiers, he gives Alex a smile of being at peace with death as he falls to the ground. His need to prove his manhood through combat has been satisfied. His second most humane moment in the film. The first being a scene early on after he kills some men and bathes in the river. Alex walks in on him and he asks for privacy, as she smiles continuing to stare he shyly walks out naked as she laughs at his bashfulness. It?s a great scene. A different sort of bashfulness is on display when Alex has a quiet exchange with an unnamed 22 year old solider (played by Ron Ely) late in the film. The solider knows that death is coming. He wants to lose his virginity before he dies. He reasons regardless of how brave he has been, no one would see him as a man if they knew he had never been with a woman. Alex is silent in response. The solider runs away embarrassed, she tracks him to a field while they make oblivious love, a Japanese tank attacks and is brought down by the group. When Ely?s death scene comes at the end; he smiles, able to die having proved his manhood. In other words, this is a John Derek film, sex figures in. Grade A+
Den Alias
Once Before I Die Quotes
There are no approved quotes yet for this movie.
Discussion Forum
Discuss Once Before I Die on our Movie forum!