One Bright Shining Moment: The Forgotten Summer of George McGovern
(2005)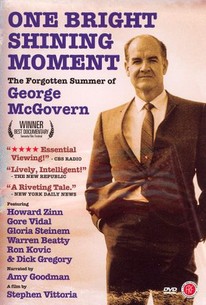 One Bright Shining Moment: The Forgotten Summer of George McGovern Videos
One Bright Shining Moment: The Forgotten Summer of George McGovern Photos
Movie Info
In the spring and summer of 1972, George McGovern, a Democratic senator from South Dakota, achieved the seemingly impossible. Backed by a motley collection of Prairie populists, old-school liberals, and young people disenchanted with the war in Vietnam, McGovern overwhelmed longtime party favorites such as Hubert Humphrey and Edmund Muskie to win the Democratic nomination for the presidency of the United States. However, McGovern's triumph proved to be short-lived; after his initial running mate, Thomas Eagleton, was revealed to have a history of mental illness, the McGovern campaign went into a tailspin from which it would never recover, with the incumbent Richard Nixon winning the 1972 election by a landslide. However, McGovern's campaign is still remembered by many as one of the last examples of a candidate truly triumphing through the will of the people rather than working the party political machine, and given the scandalous downfall of Nixon following his re-election, many have wondered what America would be like today if McGovern, once described by Robert F. Kennedy as "the most decent man in the Senate," had won. One Bright Shining Moment: The Forgotten Summer of George McGovern is a documentary which looks back at the McGovern campaign and explores what went right, what went wrong, and what was McGovern's true legacy. The film includes interviews with Howard Zinn, Gloria Steinem, Gary Hart, Frank Mankiewicz, Warren Beatty, Gore Vidal, Ron Kovic, and McGovern himself.
Rating:
NR
Genre:
,
Directed By:
Written By:
In Theaters:
On DVD:
Runtime:
Studio:
Cast
Critic Reviews for One Bright Shining Moment: The Forgotten Summer of George McGovern
Audience Reviews for One Bright Shining Moment: The Forgotten Summer of George McGovern
Oh, how badly I wanted to enjoy this. But I can't shake the feeling that George McGovern deserved better than bitter polemics and tired hippie reminiscences. It's a tragedy that the bums lost, but maybe the bums aren't the ones to dissect the reasons for their loss.
Yama Rahyar
Like any Liberal documentary you get a lot of the good vs. evil stuff and McGovern is painted in totally rosy colors, but I think the film had a point about the brilliance and failure of his 1972 bid for the presidency.
Sean Chick
I would not have automatically guessed it, but this is not what you would call an objective documentary. Of course I did guess pretty quickly that objectivity was not the purpose of this documentary, given the immediate injection of very subjective commentary by Amy Goodman -- whom, as the founder of Democracy Now!, I very much admire. As narrator, she definitely sets the tone for a heavily one-sided view of George McGovern. Fortunately, Ms. Goodman is preaching to the choir here, because I too believe that had McGovern been elected president, we would not find ourselves in this morass which we currently enjoy under the Bush administration -- which will finally go away in eleven months, only to be remembered forever as the most disastrous administration in the history of the United States of America.
If you are looking to learn something about this remarkable man, this is for you. If you are looking for a balanced view of George McGovern, this is probably not for you. If you love George McGovern, as I do, then you will love this documentary.
Lanning : )
Super Reviewer
Discussion Forum
Discuss One Bright Shining Moment: The Forgotten Summer of George McGovern on our Movie forum!
News & Features