One Chance
(2014)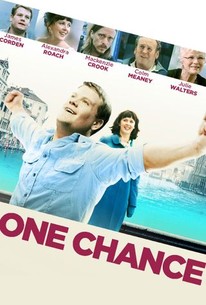 TOMATOMETER
AUDIENCE SCORE
Critic Consensus: Predictable and sentimental, yet thoroughly agreeable, One Chance is an unapologetic crowd-pleaser that achieves its admittedly modest goals.
Movie Info
From the director of The Devil Wears Prada, ONE CHANCE is the remarkable and inspirational true story of Paul Potts, a shy, bullied shop assistant by day and an amateur opera singer by night. Paul became an instant YouTube phenomenon after being chosen by Simon Cowell for 'Britain's Got Talent.' Wowing audiences worldwide with his phenomenal voice, Paul went on to win 'Britain's Got Talent' and the hearts of millions. Fresh from celebrating his Tony Award-winning Broadway run in 'One Man, Two Guvnors', BAFTA winner James Corden (THE HISTORY BOYS) stars as Paul Potts and is supported by an acclaimed ensemble cast that includes Julie Walters (MAMMA MIA!, CALENDAR GIRLS, BILLY ELLIOT), Mackenzie Crook (THE PIRATES OF THE CARIBBEAN), Colm Meaney (GET HIM TO THE GREEK), Jemima Rooper (KINKY BOOTS) and rising star Alexandra Roach (THE IRON LADY). Directed by David Frankel (THE DEVIL WEARS PRADA, MARLEY & ME, HOPE SPRINGS) and written by Justin Zackham (THE BUCKET LIST), ONE CHANCE is produced by Mike Menchel, Brad Weston, Kris Thykier (KICK-ASS, THE DEBT, I GIVE IT A YEAR), Simon Cowell, and executive produced by Bob and Harvey Weinstein. (c) Weinstein Co.
News & Interviews for One Chance
Critic Reviews for One Chance
Audience Reviews for One Chance
½
Another feel-good movie that makes you feel good. The performances were well enough to connect with and the story is heartwarming and inspiring.
Farah Rizq
½
One Chance is pleasant, but it isn't innovative enough to make this different from a dozen other rags to riches stories you've already seen fifty times before. The story really botches the ending too. The fact that Paul succeeded is already a foregone conclusion so the inevitable climax simply becomes a waiting game for Paul's TV triumph. Actor James Corden plays the lead character with a lot of humanity. The comic is set to take over Craig Ferguson's place on The Late Late Show in 2015. Corden ably lip- syncs while the real Paul Potts supplies the vocals. That all works. But then actual judging panel footage from the Britain's Got Talent TV show is used, Simon Cowell, Amanda Holden and Piers Morgan's historic responses are intercut with footage of actor Corden reacting to their evaluations. The assembled editing is not organic. The pastiche drains the moment of the drama of Paul intenerating with real people. If this were the only problem, I might've forgiven the misstep. The problem is this is merely the icing of an issue on a very uninspired cake. fastfilmreviews.com
Mark Hobin
Super Reviewer
½
I will say that One Chance is a British comedy drama, not just comedy as listed. It is a film about Britain's Got Talent winner Paul Potts, directed by David Frankel and written by Justin Zackham. This hugely inspiring biopic chronicles British tenor Paul Potts' meteoric rise to stardom via the television program Britain's Got Talent. I liked the fresh approach to comedy by the director David Frankel in The Devil Wears Prada and I wanted to see this film too, expecting the same. It was different, but not too bad at all. This was endlessly charming, against-the-odds success story which was screened in the Special Presentation section at the 2013 Toronto International Film Festival. The film was shot in Italy and the United Kingdom, and the soundtrack by Theodore Shapiro was nominated for a Golden Globe Award for Best Original Song - motion picture. The story of Paul (James Corden) was introduced by narration, and we found out about discovering his vocal gift by singing in local choirs. He is also ruthlessly bullied, a devastating blow to his self-confidence alleviated only by his love of song. Of course when you are bullied because you are singing, and singing more as an answer to bullying - the circle was almost close and never-ending! But, our hero manages to get out of this circle few times... and to come back, again... When Paul meets Julie-Ann (Alexandra Roach) on the internet, his life changes when the two fall deeply in love. Paul has almost everything a man could want, and yet he still seems to yearn... The tale of how Paul goes from unfulfilled everyman to media sensation is a testament to the human spirit and one of the most engaging true stories of our time. The first part of that story was perfectly paced and engaging, but somewhere in the middle, we were lost for a while, to be back to the normal rhythm at the end. Alexandra Roach and James Corden were perfectly cast for the roles and their chemistry felt as real as possible. Corden brings marvellous coherence to Potts's turbulent trajectory of ambition and frustration, while Roach is just lovely as the partner whose unwavering belief helps see him through. One Chance is about more than one chance - it's about a whole life spent preparing to make a dream come true. It happens!
One Chance Quotes
There are no approved quotes yet for this movie.
Discussion Forum
Discuss One Chance on our Movie forum!