One-Eyed Horse (Come Hell or High Water)
(2009)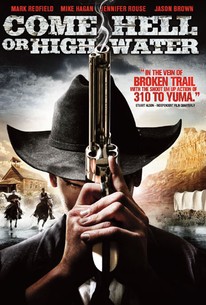 AUDIENCE SCORE
Critic Consensus: No consensus yet.
Movie Info
Released from prison after serving an extended sentence for the attempted murder of his lifelong adversary, former Confederate soldier Justin Gatewood (Mark Redfield) hatches a violent revenge plot that catches an entire small town in the crossfire. Twenty-five years ago, Gatewood and his brother were taken as prisoners of war. They were under the watch of Union Officer William Curry (Mike Hagen when Gatewood's brother died under mysterious circumstances. Now, Gatewood has been released from prison, and he's about to discover just how much things have changed during his incarceration. The town of Hadley has changed; it's a new age of law and prosperity, and Gatewood's business has flourished under the guidance of his daughter Helen (Jennifer Rouse). But as hard as Helen tries to make her father forget his vendetta, no amount of pleading can correct the past and Curry must pay for his transgression. Curry too has a successful business and a daughter to think about, and once he learns that Gatewood wants him dead he begins preparations for the final showdown. But this isn't your typical gunfight, because when the bullets start to fly no one in Hadley - including Gatewood and Curry's daughters - will be safe. ~ Jason Buchanan, Rovi
Rating:
NR
Genre:
,
In Theaters:
On DVD:
Runtime:
Studio:
Critic Reviews for One-Eyed Horse (Come Hell or High Water)
There are no critic reviews yet for One-Eyed Horse (Come Hell or High Water). Keep checking Rotten Tomatoes for updates!
Audience Reviews for One-Eyed Horse (Come Hell or High Water)
Just when I was getting lucky with a few good movies a complete piece of garbage had to drop in my lap! This was so bad I turned it off after less than 20 minutes and could care less if it got any better as there is a greater chance of a blizzard in Arizona!! This was just pure pain! The acting, the dialogue, the horrible angles, the inability to ride horses, lack of period accents and dialects...and again I only lasted 20 minutes! I was hoping for a decent return to some western movies - I am still hoping! ACTING = * STORY = * PLOT = * EFFECTS = ** OVERALL = * * = YOU DIDNT EVEN TRY - SUCKTASTIC - HATED IT ** = YOU TRIED, BUT DIDNT QUITE MAKE IT - DIDNT LIKE IT *** = AVERAGE - TOLERATED IT **** = GOOD JOB! YOU REALLY TRIED! - I LIKED IT ***** = YOU ARE FREAKIN' AWESOME! - I LOVED IT
Jhary OConnel
½
Except for a few moments when I found the sound effects spectacular (during a couple shoot outs), this movie is not worth your time. A little disjointed and hard to follow at times. Video, not film. Poor acting and costuming (colours too vivid and equipment/clothing not aged enough). 2010-03-12.
John Redshaw
It had a good story, but the acting was too melodramatic to be enjoyable. The actors Mark Redfield and Mike Hagan were cast very nicely, but there were at times I felt I was watching a stage production than a film. It was a bit unclear one had caused the conflict between the two characters, only that it had to deal with 25 years ago after the civil war. Do not expect a grand finally, even though it ended how the movie felt; dully. I went into the film blindly, this is a warning not to do the same.
Sean Read
One-Eyed Horse (Come Hell or High Water) Quotes
There are no approved quotes yet for this movie.
Discussion Forum
Discuss One-Eyed Horse (Come Hell or High Water) on our Movie forum!