One-Eyed Monster
(2008)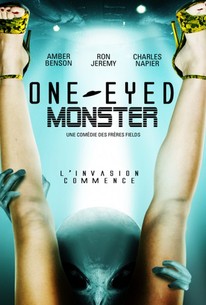 AUDIENCE SCORE
Critic Consensus: No consensus yet.
Movie Info
Director Adam Fields pays homage to such sci-fi classics as Alien and The Thing with this tongue-in-cheek horror comedy about a snowbound porno film crew being stalked by an evil, body-jumping alien. A blizzard has blown into town, leaving the crew of an adult film hopelessly stranded in the middle of nowhere. To make matters worse, a menacing monster from space has just arrived, too, and it's looking for a warm place to hide out. When the alien takes possession of the film's biggest star (porn legend Ron Jeremy), the rest of the crew unites to eradicate the extraterrestrial invader before it claims any more victims.
Critic Reviews for One-Eyed Monster
All Critics (2) | Fresh (2) | Rotten (0)
unlike Jeremy's disproportionately sized member, Fields' film is too short to let any of its more flaccid moments bring it crashing down, and funny enough (at least in a drunken crowd) to make your eyes water.
While it may seem like making a horror comedy about an alien penis that takes itself kind of seriously is the epitome of an oxymoronic idea, it plays really well.
Audience Reviews for One-Eyed Monster
(edit: FYI, this is NOT an actual "porn" film!) While filming an adult film at an isolated cabin in the mountains, porn star Ron Jeremy's, umm..."member" becomes possessed by an alien force, detaches itself, and begins killing the cast and crew. The concept alone demands a viewing. Surprisingly funny, this movie spoofs both horror films and adult films. Is it bad? Oh yeah, but intentionally so. The movie knows exactly what it is and doesn't try to be anything more. The acting is as bad as you would expect, but it fits. The cinematography and music, however, are surprisingly well-done for such a low-budget flick. Obviously not for the easily offended, but if you like some nasty humor, this is actually kinda fun. It would probably make a good double feature with "Orgazmo"
Martin Bishop
Super Reviewer
One-Eyed Monster Quotes
There are no approved quotes yet for this movie.