One Missed Call
(2003)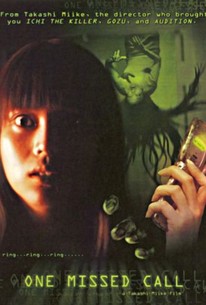 Movie Info
Visionary horror film director Takashi Miike delivers a typically stylish and idiosyncratic scare-fest with this thriller. Yumi Nakamura (Kou Shibasaki) is a mildly paranoid young woman whose good friend, Yoko, receives a strange and mysterious call on her cell phone. The phone's read-out says that the call came from Yoko's own number, but from three days into the future; 72 hours later, Yoko dies in a bizarre accident moments after getting the same call over again. Yumi learns that Yoko isn't the only person to have had this experience; the spirit of a vengeful woman has been creeping into people's cell phones, and one by one is taking the lives of the folks in their internal telephone books. As Yumi struggles to solve the mystery of how and why this could be happening before someone else dies, she discovers the story has more to do with her than she imagined. Chakushin Ari was a major box-office success in Japan, where leading lady Kou Shibasaki is a popular recording artist as well as an actress.
News & Interviews for One Missed Call
Critic Reviews for One Missed Call
Audience Reviews for One Missed Call
Good horror, some really scary things in here. Definitely craps over the American remake. Ending was a bit open to own interpretation.
Nicki Marie
Super Reviewer
The first act of One Missed Call is masterful, with Miike utilizing his most clever devices since Ichii, but the film is ultimately undone by weighty exposition and too much excess. Aside from the terrific TV station scene, you can really sense the struggle of an unconventional filmmaker trying to find his comfort zone in a commercial enterprise.
Jonathan Hutchings
Super Reviewer
½
The idea of this is very similar to the grudge or just to another horror film that was already made at the time but I must put One Missed Call as something different and scary at times despite all its flaws and its terrible remake that should be left in the dark forever. So yet another simple yet freaky story. People mysteriously start receiving voicemail messages from their future selves, in the form of the sound of them reacting to their own violent deaths, along with the exact date and time of their future death, listed on the message log. The plot thickens as the surviving characters pursue the answers to this mystery which could save their lives. Or die horribly trying in the process. The remake itself was just awful why they made that OR even remake our movies is a mystery to me. I walkout out of the remake at the 55 minute mark my all time record was Caligula re-release at 24 minutes. I love Takashi Miike Ichi the Killer that is just brutally awesome but this has its flaws yes but I find it to be good despite what otherts put it. Kô Shibasaki and Shin'ichi Tsutsumi do okay jobs despite there major acting problems and to the others I wont hold my breath. The storey is like a major rip off of other ghost films and to people that have seen lots of them the similatys will hit you sooner or later. That exorcism scene was like WTF but maybe that was just me. Some freeky settings but that's about it I guess. My final line is, see it if you are a major horror fan and DON'T see the remake.
Ariuza koraw
Super Reviewer
One Missed Call Quotes
There are no approved quotes yet for this movie.