One More Kiss
(2001)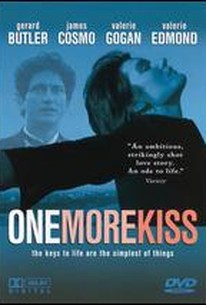 AUDIENCE SCORE
Critic Consensus: No consensus yet.
Movie Info
Vadim Jean directs this strikingly photographed tale about Sarah (Valerie Edmond), a 30-year woman coming to terms with both her life and her terminal cancer. The film opens with her contemplating suicide on top of a New York skyscraper. Cut to northern England, where she returns to her widower father Frank (James Cosmo) and her now married ex-boyfriend Sam (Gerry Butler), whom she previously dumped to pursue a career in the States. Frank has settled into a melancholy housebound rut and is disconcerted by her sudden appearance. Sam still has some feelings for his ex, but his wife Charlotte is none too pleased with her presence. Told with humor and brevity, the film offers well-drawn characters who interact until the inevitable yet dignified end. ~ Jonathan Crow, Rovi
Critic Reviews for One More Kiss
There are no critic reviews yet for One More Kiss. Keep checking Rotten Tomatoes for updates!
Audience Reviews for One More Kiss
Over the course of the next couple of days I'll be posting a little trilogy of Scottish films that will have, no doubt, passed many people by and are certainly worthy of some more attention. I'll begin with this 1999 film set in the Scottish borders that although it falls into a particular romantic genre, it dares to do things differently and succeeds admirably. Sarah Hopson (Valerie Edmond) has been living a successful, high-flying lifestyle in New York but when she finds out that she has a terminal illness, she heads back home to Scotland to prepare for her death. When she arrives, she reacquaints with her childhood sweetheart Sam Murray (Gerard Butler). Sam now runs a restaurant and has since married but Sarah approaches his wife (Valerie Gogan) to ask that she spend time with him before her death - causing everyone some mixed emotions. The film opens with a lone female, arms aloft, teetering on the edge of a skyscraper. It's a powerful piece of imagery and an opening scene that sets the tone of this heartfelt tale. This is not a film about death but about life, love and relationships. It explores the mistakes and regrets but also delivers a chance of redemption. It's in the human relationships that this film finds it's strength. It's not just about Sarah and her need to tie up loose ends but it confidently explores the effects on the people around her; she brings both a mixture of pleasure and pain to the other characters. At times she can come across as arrogant and selfish yet she also brings hope and instills a belief in people to live their lives fully. This is a film that wears it's heart on it's sleeve and for the most part, the performances are great. It's interesting watching a young Gerard Butler and Valerie Gogan as his suffering wife is fantastic. James Cosmo is also especially memorable as Sarah's cantankerous, rough diamond father. However, Valerie Edmond as the lead, looked a little stretched at times which I just couldn't understand; in some scenes she was absolutely superb and in others she was quite poor. This could be down to her delivery of the dialogue though. I tend to be a little harsh on Scottish performers as sometimes the dialogue isn't delivered properly. Most Scots have a certain slang nature to their dialect and when you hear words uttered with correct English pronunciation it jars a little. Understandably this has to be the case, so as to appeal to a wider audience but as a Scotsman, it seems out of place. That being said, Edmond still gets the job done and although some of the idiom may lost, the film still retains it's subtle Scottish humour and delivers moments of highly impressive, realistic drama. Despite some small inconsistencies this is still a beautifully played, poignant and heartfelt life/love story. It's not normally the type of film I'd be drawn to but I was impressed with it's execution.
Mark Walker
Super Reviewer
½
I have mixed feelings about this one. Gerry (Gerard) Butler was really good in this, as was the rest of the cast. Interesting story, also. The outcome, however, bothers me a bit. I'm not sure how I am supposed to feel about the mark that this dying lady has left on everyone in her life. I guess the simple fact that it left an impression on me, and made me do some pondering about it, says a little something about this movie....
Cynthia S.
Super Reviewer
One More Kiss Quotes
There are no approved quotes yet for this movie.