Paranoia 1.0
(2004)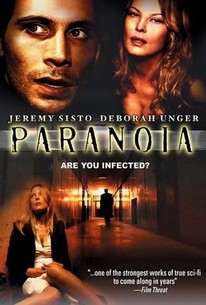 Movie Info
High-tech whiz Simon (Jeremy Sisto) is so suspicious he borders on paranoia, a neurosis made even worse when he chances upon a mysterious parcel left in his apartment. When he opens it, nothing's inside, which sets off a spiral of events that threaten his sanity. Soon after, he receives more similar packages, but is still unable to identify the sender. Is Simon going crazy, or is someone trying to drive him to the brink of madness on purpose?
Rating:
R (for language, sexual images and violent images)
Genre:
,
Directed By:
In Theaters:
On DVD:
Runtime:
Cast
Critic Reviews for Paranoia 1.0
Audience Reviews for Paranoia 1.0
I liked the concept, but the movie was too ambiguous and confusing, and the visual style was way overused. The Lynch/Cronenberg influence is a bit too obvious.
Gabriel Knight
if someone like David Fincher had directed this and gotten real actors for it.... i dont know
Coxxie Mild Sauce
Super Reviewer
This film struggles a bit to find its balance, spending the majority of time setting the pieces in place (in a purposefully unclear manner) only to then have it explained to us by the red-suited exposition courier. Once the ambiguity starts to become tedious the story then attempts to cure it by making broad and opaque brush strokes that are meant to be open-ended, except that they don't really ask any questions. Paranoia seems to be a film about inevitability then. This is what is "going to happen". And so we end up with a wholly unsatisfied feeling at the end since the preceding was devoid of cause or consequence, just an invisible corporate entity and the cogs that feed it. Even Simon himself has no leeway in changing who he is or the makeup of his environment. Nevertheless, this film has enough going for it in the richness of its characters and set design to make this a worth while view for sci-fi fans.
Brett Warren
Super Reviewer
Discussion Forum
Discuss Paranoia 1.0 on our Movie forum!
News & Features