Chanbara Beauty
(2008)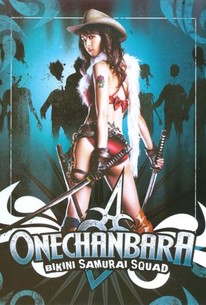 AUDIENCE SCORE
Critic Consensus: No consensus yet.
Movie Info
The dead have risen to feast on the flesh of the living, and just when it seems that all hope for humanity has been lost, bikini girls with machine guns take one last shot at saving mankind from certain extinction. In the near future, a deranged scientist named Sugita has conducted a series of experiments intended to reanimate the dead. Unfortunately for the entire population of the planet, these experiments were a resounding success. Now, as a massive, shambling army of the undead launches a bloody war against their living counterparts, wandering beauties Aya (Eri Otoguro) and Reiko (Manami Hashimoto) team up to destroy every last zombie in sight. Unfortunately, Aya's sword-wielding schoolgirl sister Saki (Chise Nakamura) is in league with the nefarious Sugita. When Aya discovers that Saki has killed their father, she vows to take brutal revenge against her murderous younger sibling. Meanwhile, the zombie population is growing at an alarming rate.
Critic Reviews for Chanbara Beauty
There are no critic reviews yet for Chanbara Beauty. Keep checking Rotten Tomatoes for updates!
Audience Reviews for Chanbara Beauty
I realize that video game-to-movie adaptations are never very good, but how do you make a film about a cowboy hat wearing, bikini clad warrior who chops up zombies with a sword... and making it utterly boring? Just a string of missed opportunities for titillation or wit or squalid gory glee, the whole thing just falls flat from the first shot. It didn't even excel in gratuity.
½
Zombies doing karate. Hot girls in bikinis (and cowboy hats) fighting school girls with samurai swords. Copious amounts of blood and gore. Yep, this must be Japanese. Onechanbara is another entry into the quite popular ultra-gory, shock-action genre of Japanese movies. It's over-the-top in a thousand different ways, and more akin to a video game (which it's based on) than most movies. All the violence is stylized and not the least bit realistic, which fits the tone of the movie perfectly. There's lots of random slow-mo and guns that never need to be reloaded, and even the emotional moments and special effects are handled in a thoroughly cheesy way. There's lots of fighting and enough of a plot to string it all together. What more do you need? As for the story, there's an evil scientist with a weird eye, something about a search for a couple of sisters, and (more importantly) loads o' zombies. I have no idea how closely the plot adheres to that of the games, and I'm pretty sure that the people who made the movie probably don't, either. If you're curious about why Aya wears a bikini and has a sword that appears to be magic, or why Reiko's shotgun never runs out of ammo...well, you're watching the wrong movie. This nothing more than absurd action entertainment, and it ended up being better than I thought it would be. If you're a fan of movies like Machine Girl, you'll be right at home, here.
Chanbara Beauty Quotes
There are no approved quotes yet for this movie.
Discussion Forum
Discuss Chanbara Beauty on our Movie forum!