Onésime horloger (Onesime, Clockmaker) (Simple Simon Clock Maker)
(1912)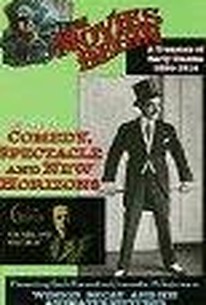 AUDIENCE SCORE
Critic Consensus: No consensus yet.
Movie Info
The only way Onésime could think of to get his inheritance quicker was to set the clocks forward. Surprise: the whole world starts speeding up wildly.
Rating:
NR
Genre:
, ,
Directed By:
In Theaters:
Critic Reviews for Onésime horloger (Onesime, Clockmaker) (Simple Simon Clock Maker)
There are no critic reviews yet for Onésime horloger (Onesime, Clockmaker) (Simple Simon Clock Maker). Keep checking Rotten Tomatoes for updates!
Audience Reviews for Onésime horloger (Onesime, Clockmaker) (Simple Simon Clock Maker)
½
"Onesime, Clockmaker" was a delightful satire of futurism--an experiment in film technology and technique that pointedly demonstrates the ways in which machines (clocks, specifically) run our world, and the way we move so quickly through our lives that we barely stop to notice what's happening before it's already happened. We seem to rush so headlong into the future and towards our goals that we forget to actually experience anything--a nice tie-in with the Tati film, which dealt with many of the same ideas. "Onesime, Clockmaker" is obviously a one-joke short film, but it was a good joke. It's incredible to me to imagine what life must have been like before we all had clocks on our arms and in our pockets at any given moment--the clock was both a product of and one of the instruments that allowed for the increasing interconnectedness of the post-industrial world: trains needed to run to a schedule, and the changes in industry and commerce created the necessity for time zones (and, later, Daylight Savings, which was implemented in Europe four years after the release of this film). The democratization of the clock was a demonstration of and a tool for breaking down social barriers, but it also helped turn us into machines. It's hard for me to imagine that, at a point in the not far distant past, people couldn't make appointments with one another for specific hours and minutes, but lived by the most basic form of time-telling--the movement of the sun. It's amazing to me to think that, just a few decades ago, most people spent their entire lives within a few miles of their hometown, whereas, by age 23, I've already traveled halfway around the world and visited a half a dozen countries (not to mention the fact that I have instantaneous access to information from around the world literally at my fingertips at any given moment). But it's so easy (for me, at least) with all the things technology makes possible to just become overwhelmed by it all and never get anything done. It's so easy to gallop through the days and weeks and months and years at an "Onesime"-like pace--and easy to justify the gallop with frequently good reasons. I'm not looking forward to any inheritance, but I have had (mostly temp) jobs that I more or less "Onesime"d, watching the hours pass so I could collect a paycheck at the end of it. I did work that needed to be done, and, for doing it, I got money so my wife and I could eat, but I couldn't really tell you much about most of the many hours I spent at those jobs (or, for that matter, most of the hours I've spent anywhere). It's too easy, I'm afraid, to translate the time we have into a never-ending series of checklists--things to be endured rather than experiences to be had and memories to be savored.
Davey Morrison Dillard
Onésime horloger (Onesime, Clockmaker) (Simple Simon Clock Maker) Quotes
There are no approved quotes yet for this movie.