Onibaba
(1965)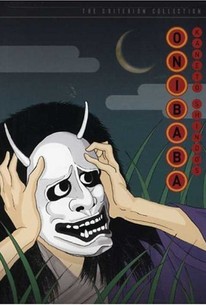 Movie Info
A landmark in fantasy cinema, this lyrical ghost story is set in medieval Japan amid a bloody conflict between rival fiefdoms. While the warrior Kichi's impoverished wife (Jitsuko Yoshimura) and mother (Nobuko Otowa) wait for his return from battle, they maintain a humble existence by luring lost soldiers into the surrounding fields of tall grass and murdering them in order to sell their armor and weapons for food; the bodies are then disposed of in a deep cavern. After learning that her son has been killed in battle, Otowa begins to concoct a scheme to frighten her daughter-in-law into staying at home with her indefinitely. After killing a soldier clad in a hideous demon mask -- which hides his grotesque, scarred face -- the mother dons the mask and succeeds in frightening Yoshimura away from her new lover's house. To her own horror, the mother quickly discovers that the mask is now securely stuck to her face, and her attempts to remove it culminate in the greatest horror of all. Fraught with sexual tension, nefarious schemes, and Freudian symbolism, this compelling masterpiece, by turns hypnotically beautiful and shockingly brutal, represents the finest in horror filmmaking, driven by powerful imagery and aided by sumptuous black-and-white photography. ~ Cavett Binion, Rovi
Critic Reviews for Onibaba
Audience Reviews for Onibaba
½
despite the limitations that this film faced with its limited story, few characters, and single environment, the film is incredibly effective with what is put on screen. the cinematography was especially perfect in every way, creating a necessary eerieness that sets the perfect mood for a mild horror film that takes place in the most perfect of settings with the daunting tall grass near an unsettling river. the fear factor was at a perfect level and overall the film is perfect for fans of the old style horror that cares more about story than gore and shock value. one of my favorite horror films of all time.
½
A personal favorite of mine. It's dark, earthy, erotic, claustrophobic, eerie, but mostly a grim tale of a trio with little but the basics of human nature to keep them going. It's a harsh film shot with a minimalist set with survival as a key theme to the story, the look being the primary attraction. Dialogue is minimal, as is the percussive jazz soundtrack creating a Bushido-noir. To judge the women in the film would be hypocritical since the impoverished world they live in has been created by the hierarchy of man and the aftermath of war. Then there's the sexual jealousy between mother and daughter stemmed from self-preservation; the mother may not survive without her and being reminded of her own unfulfilled sexual desires while only growing older. The pace is slow but time is never wasted. More psychological than spiritual horror, Onibaba is like no other film and has proven the test of time with other greats from Kurosawa, Ozu and Mizoguchi.
El Hombre Invisible
Super Reviewer
A story of survival in extreme poverty during wartime. Minimalistic and bare, yet at the same time ridden with symbolism. Strongly sexual without being sexy or vulgar.
vieras esine
Super Reviewer
Onibaba Quotes
There are no approved quotes yet for this movie.
Discussion Forum
Discuss Onibaba on our Movie forum!