Onibaba
(1965)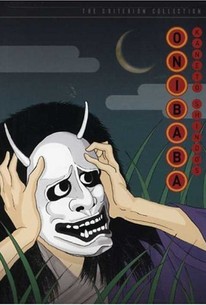 Movie Info
Set in medieval Japan, Kaneto Shindo's feral suspense tale stars Jitsuko Yoshimura as an unnamed young woman left widowed by civil war. To survive, she and her mother-in-law (Nobuko Otowa) turn to ambushing passing samurai, selling their armor and dumping the corpses into a nearby pit. When the younger of the two women becomes romantically involved with Hachi (Kei Soto), a local farmer and one-time friend of her late husband, the older woman is instinctively threatened; donning a demon mask removed from the body of one of her samurai victims, she hatches a plot to frighten her daughter-in-law into ending the romance, leading to a macabre and chilling climax. Notable for Kiyomi Kuroda's eerily beautiful black-and-white cinematography, Onibaba is among the most visually striking Japanese films of its period, as well as one of the most violently sensual; atmospheric and intense -- complete with a primal, almost free jazz-like score from composer Hikaru Hayashi -- it achieves a mood of foreboding and dread endemic to the finest horror films.
Critic Reviews for Onibaba
Audience Reviews for Onibaba
½
despite the limitations that this film faced with its limited story, few characters, and single environment, the film is incredibly effective with what is put on screen. the cinematography was especially perfect in every way, creating a necessary eerieness that sets the perfect mood for a mild horror film that takes place in the most perfect of settings with the daunting tall grass near an unsettling river. the fear factor was at a perfect level and overall the film is perfect for fans of the old style horror that cares more about story than gore and shock value. one of my favorite horror films of all time.
½
A personal favorite of mine. It's dark, earthy, erotic, claustrophobic, eerie, but mostly a grim tale of a trio with little but the basics of human nature to keep them going. It's a harsh film shot with a minimalist set with survival as a key theme to the story, the look being the primary attraction. Dialogue is minimal, as is the percussive jazz soundtrack creating a Bushido-noir. To judge the women in the film would be hypocritical since the impoverished world they live in has been created by the hierarchy of man and the aftermath of war. Then there's the sexual jealousy between mother and daughter stemmed from self-preservation; the mother may not survive without her and being reminded of her own unfulfilled sexual desires while only growing older. The pace is slow but time is never wasted. More psychological than spiritual horror, Onibaba is like no other film and has proven the test of time with other greats from Kurosawa, Ozu and Mizoguchi.
El Hombre Invisible
Super Reviewer
A story of survival in extreme poverty during wartime. Minimalistic and bare, yet at the same time ridden with symbolism. Strongly sexual without being sexy or vulgar.
vieras esine
Super Reviewer
Onibaba Quotes
There are no approved quotes yet for this movie.