Only the Valiant
(1951)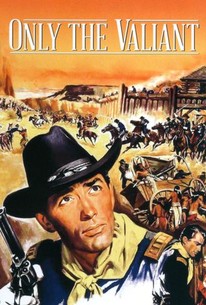 AUDIENCE SCORE
Critic Consensus: No consensus yet.
Movie Info
Originally conceived as a Gary Cooper western, Only the Valiant reached the screen with Gregory Peck in the lead. Peck plays Richard Lance, a strictly by-the-book Army captain. Though hated by his men, Lance is respected for his military know-how. This comes in very handy when Lance and a detachment of troops attempt to reach, and then hold, an unguarded Army garrison in the middle of Apache Country. Among the film's he-man contingent are Ward Bond, Gig Young, Lon Chaney Jr., Neville Brand, Jeff Corey and Steve Brodie, all delivering topnotch performances. The nominal leading lady is Barbara Payton, whose real-life tragedies were far more dramatic than any film she appeared in. Only the Valiant was based on a novel by Charles Marquis Warren.
Rating:
NR
Genre:
, ,
Directed By:
Written By:
In Theaters:
On DVD:
Runtime:
Studio:
Warner Bros.
Critic Reviews for Only the Valiant
All Critics (2) | Fresh (1) | Rotten (1)
Gregory Peck was a replacement for Gary Cooper, who never liked the film but nevertheless his grand performance is the main reason the film is any good.

Ozus' World Movie Reviews
Out of the 53 theatrical features Gregory Peck made over a 47-year span, the late, great actor always considered the worst to be Only the Valiant ... But this middling Western isn't awful so much as it's awfully indifferent.

Audience Reviews for Only the Valiant
Solid 1950s western action movie. Understaffed army forts trying to hold back the Apache raids. Although the scenes often reveal the low budget, the acting and story are very good and enough to draw you in.
David Bailey
½
Watch this one primarily for Peck, but it's loaded with recognizable B actors. The interior sets come off like television. Exterior scenes are bad too. Unusual to see Lon Chaney in a Western and in a supporting role but he steals the show with his acting ability as a crazy trooper out to do harm to Greg Peck. [img]http://img82.imageshack.us/img82/8423/asd3dq9.png[/img] Lon Chaney as big as Frankenstein, right The men in this small group of malcontents, deserters, psychopaths & cowards all hate Capt. Lance & wish him dead. Much to their chagrin, the men recognize that Lance's survival instincts, military knowledge & leadership are the only chance the group has of staying alive. [img]http://6f9e5b2993b2676fe5af-84a7d838f746c494b9783302a5a26cce.r46.cf5.rackcdn.com/wp-content/uploads/2013/06/Only-The-Valiant-Theatrical-Poster-Courtesy-of-Olive-Films-290x160.jpg[/img] SEE the entire film here: http://www.youtube.com/watch?v=nKfFrLwFE7U Soldiers disrespect Gregory Peck as some sort of fancy pants officer who would run before fighting. Talk of disrespecting orders is considered possible under circumstances. [img]http://img84.imageshack.us/img84/1720/asd6ma6.png[/img] REVIEWS by those like us: 80% Gregory Peck stars in this Western as Apache try to take the fort, But of course there are bad guys in the Cavalry, and a love story thrown in. [img]http://img174.imageshack.us/img174/9205/asd1kj4.png[/img] NOTES: 1 Gregory Peck, in a role he considered a low-point of his career, plays Captain Richard Lance, a by-the-book West Point graduate who is not very popular with the men under his command. 2 The screenplay was written by Edmund H. North and Harry Brown, based on the 1943 novel of the same name by Charles Marquis Warren. SEE the movie here: http://www.youtube.com/watch?v=nKfFrLwFE7U Cast Gregory Peck as Captain Richard Lance Barbara Payton as Cathy Eversham Ward Bond as Corporal Timothy Gilchrist Gig Young as Lieutenant Bill Holloway Lon Chaney, Jr. as Trooper Kebussyan ("the Ay-rab") Neville Brand as Sergeant Ben Murdock Jeff Corey as Joe Harmony Warner Anderson as Trooper Rutledge Steve Brodie as Trooper Onstot Dan Riss as Lieutenant Jerry Winters Terry Kilburn as Trooper Saxton Herbert Heyes as Colonel Drumm Art Baker as Captain Jennings Michael Ansara as Tucsos Nana Bryant as Mrs. Drumm David Clarke as guardhouse sentry (uncredited) John Doucette as sergeant (uncredited) [img]http://s3.amazonaws.com/auteurs_production/images/film/only-the-valiant/w448/only-the-valiant.jpg?1298544495[/img] Peck Directed by Gordon Douglas Produced by William Cagney Written by Screenplay Edmund H. North and Harry Brown Novel Charles Marquis Warren Music by Franz Waxman Cinematography Lionel Lindon Editing by Walter Hannemann Robert S. Seiter Distributed by Warner Brothers Pictures Release dates April 13, 1951 Running time 105 min. [img]http://i1.ytimg.com/vi/r3IPf6ElX5s/0.jpg[/img]
monsieur rick
I only choose to watch this because Barbara Payton was in it. This film, released in 1951, has the usual elements typical of the westerns released during the 50's; the cavalry needing to protect the territory from a murderous band of Indians, an officer determined to see that task through, and the men with him with various character flaws that he has to merge together into a cohesive unit. This small band must hold on to a fort located close to the Indian village until reinforcements arrive. The Indians know, all to well, that the small band is undermanned, and could be wiped out before the help comes. One major difference for this film, "Only the Valiant", is that it attempts to play out the usual storyline, but at the same time, deliver the message that duty is a paramount concern to be shared by all, even if they don't accept that charge. Gregory Peck embodies the tight-lipped captain of the troop that has to prevent the Indians from breaking out into the territory. The troopers that he takes with him to the small outpost are the dregs of the troop at the fort; they, in turn, have gripes or weaknesses that cause them to wonder if the captain hasn't taken them out because of their general lack of devotion to a cause. Eventually, the captain and the small band confront the hostiles, and at the same time, each confronts his own flaw. The cast includes western stalwarts such as Ward Bond, Gig Young, Neville Brand, Lon Chaney, Jr., and Warner Anderson. A sleeper of a film, and a good solid western for fans of this genre. 5 Stars 2=2=13
Bruce Bruce
Super Reviewer
Only the Valiant Quotes
There are no approved quotes yet for this movie.