Armour of God (Long xiong hu di) (Operation Condor 2)
(1987)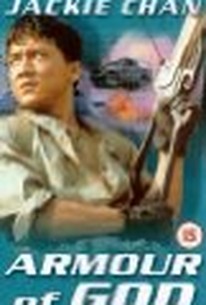 Movie Info
Jackie Chan takes a break from police thrillers featuring kung-fu and wild stunts to star and direct this action-adventure yarn featuring kung-fu and wild stunts. Chan plays Jackie, aka the Asian Hawk, an Indiana Jones-style adventurer looking to make a fortune finding exotic antiquities. After discovering a mysterious sword in Africa, a band of Satan-worshipping monks kidnap Jackie's ex-girlfriend Lorelei (Rosamund Kwan), demanding as ransom the sword and other pieces of the legendary Armour of God -- a reportedly magical outfit dating back to the Crusades. He manages to get the objects in question from wealthy collector Bannon (Bozidar Smiljanic), and together with Bannon's daughter May (Lola Forner) and, of course, Hong Kong rock star Alan (Alan Tam), the three head out to rescue Lorelei. When they do, they discover too late that she has been brainwashed. She drugs Alan, taking him and the armor back to the monastery. Jackie is forced to take on an army of satanic monks single-handedly. This film is perhaps best remembered as the shoot that almost killed Jackie Chan. While jumping from one tree to another, he slipped and plunged almost 40 feet landing on his head. True to hallowed Hong Kong tradition, that outtake along with dozens of others is included at the end of the film. This film was released in the States under the misleading title Operation Condor 2: The Armour of the Gods, even though the supposed original Operation Condor was made four years afterwards. ~ Jonathan Crow, Rovi
Critic Reviews for Armour of God (Long xiong hu di) (Operation Condor 2)
Audience Reviews for Armour of God (Long xiong hu di) (Operation Condor 2)
½
Jackie Chan tries his hand at an Indiana Jones style adventure with this little action romp that he also directed. Chan plays a treasure hunter named Jackie who must rescue his ex-girlfriend who gets kidnapped by a group of Satan worshippers seeking pieces of armor said to date back to the Crusades that also have mystical powers and qualities about them. In tow are a goofy sidekick as well as the daughter of the antique collector Jackie does dealings with. Okay, so right off the bat this film is basically just a fun goofy action romp that's not trying to be art. That's cool with me. It's just a nice little tribute to IJ and adventure yarns of the past, but with Chan's trademark sense of humor, and of course, awesome fights and stunts. Chan is known for taking risks and often getting hurt, but this is the film that almost took his life. The stunt was a simple, straightforward, and rather tame one for him: jump onto a tree branch. However, during the jump, he slipped, fell 40 feet, and landed on his head, resulting in a skull fracture. He still has a plastic plug in his skull to this day as a result. And for that, I gotta give the man many many kudos. The plot is silly, but again, that's not what the film is really here for. It just wants to be an action spectacle, and that's what it does, and does well. The stunts are cool, the fights are well choreographed and executed, and the film's got a great sense of humor to boot. If you want a piece of fluff, albeit a decently well made one, then definitely give this a look.
Chris Weber
Super Reviewer
½
The film that almost kills Jackie, watch it mostly for the final act, and the chase sequence. Some good of locations, but Alan Tam is highly annoying in his sidekick role. On the good side, Jackie beats some monks, and rides a very rad 80s car.
Tsubaki Sanjuro
Super Reviewer
A brilliant low budget Jackie Chan classic. Some amazing fight scenes in this!
Armour of God (Long xiong hu di) (Operation Condor 2) Quotes
There are no approved quotes yet for this movie.