The Opposite Sex
(1956)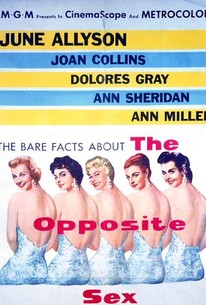 Movie Info
The Opposite Sex is an opulent musical remake of Clare Booth Luce's The Women (1939). June Allyson stars in the old Norma Shearer role, playing the virtuous wife who loses her husband to scheming Joan Collins (as the Joan Crawford character). At first agreeing to a divorce, June decides to win hubby back by utilizing the same crafty feminine wiles that Joan had employed to lead him astray. Doloress Gray plays the counterpart to Rosalind Russell's vitriolic gossip. The original The Women boasted an all-female cast: the remake includes several male characters, played by the likes of MGM contractees Leslie Nielsen and Jeff Richards. Dick Shawn, Jim Backus and Harry James are also on hand, billed as "special guest stars." The satirical bite of The Women has been softened in The Opposite Sex, but musical fans should have a good time. Sammy Cahn, Nicholas Brodszky, Ralph Freed and George Stoll were among the songwriters; Collins, Allyson and Jeff Richards perform musical numbers in the film. ~ Hal Erickson, Rovi
Rating:
NR
Genre:
, , ,
Directed By:
Written By:
In Theaters:
On DVD:
Runtime:
Studio:
MGM
Critic Reviews for The Opposite Sex
Audience Reviews for The Opposite Sex
If not for anything else, watch this for the great 50's fashion inspiration! A dress-a-minute type movie...
Katrinka C.
colorful remake of "The Women" should have left the men out and June is a little pallid but Moorhead, Blondell, Collins and especially Sheridan spice this up.
½
[img]http://www.moviegoods.com/Assets/Product_images/1010/33543.1010.A.jpg[/img] I hate this movie. It's awful. But I hate this movie, and yet I always watch it. I can't stand it. It's just a big ball of suckage. In this musical remake of [i]The Women[/i], June Allyson plays a happily married former nightclub singer who finds out her husband is having an affair with sexy young Joan Collins. She tries to ignore it at first, but finds she can't, so it's on to Reno, where she finds she isn't the only girl in that boat. Only, unlike most of the women there, she doesn't seem to want a divorce. Allyson is horrible. She's just an awful actress, and this is one of her worst performances. She puts absolutely no emotion behind any of her words. And the attempts to make her sexy were just ridiculous. Joan Collins isn't bad, but she lacks the raw, predatory sexuality of Crystal Allen. She's like a little girl trying to play at vamp. The supporting cast is decent, but underused. Leslie Neilson, Ann Sheridan, Ann Miller, and Joan Blondell all give good performances, but they're wasted. Some of the characters don't even need to be there. Sort of like the musical number. First of all, they're crappy number with annoying songs, and they're completely unneccesary. Which makes it even more annoying. [b]Final Grade: [/b]D+
Katie Richardson
The Opposite Sex Quotes
There are no approved quotes yet for this movie.