Opus & Bill - A Wish For Wings That Work
(1991)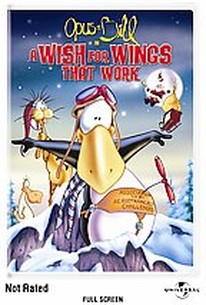 AUDIENCE SCORE
Critic Consensus: No consensus yet.
Critic Reviews for Opus & Bill - A Wish For Wings That Work
All Critics (2) | Fresh (2) | Rotten (0)
Talking animals, brightly colored animation, a heartwarming moral to the story...what else could you possibly want out of a holiday 'toon?


Audience Reviews for Opus & Bill - A Wish For Wings That Work
½
I wish this was longer. This short movie cracks me up. The humor is ridiculous and absurd. Everything I could ask for in a holiday special.
Joel Garcia
Not Quite a Classic As part of a marginally disappointing Yule--Heather has not informed me when there will be presents, and she has mine from Graham--I decided to watch a Christmas special I'd never seen. This is a dicey prospect. Indeed, it's no less uncertain if it's a property you know and love from elsewhere. Maybe more so. After all, if Hollywood has taught us anything over the years, it is that it has qualms in taking something you've loved since you were a kid, mincing it into tiny pieces, coating it with suck, and force feeding it back to you in the sure knowledge that you'll eat every last bite. We've seen it happen again and again, and it's never going to stop. You wouldn't believe some of the disturbing movies which have been green-lit. Or maybe you would and are as sad as I. This time, it's our good friends Opus and Bill. Well, Opus, mostly; Bill isn't really a part of it, because there's only so much plot you can hang onto a cat who spits and doesn't talk. Plot happens around him sometimes, but in a sort of Chance-the-Gardener kind of way, at least when Donald Trump's brain isn't in his body. Anyway, Opus is, as we know, a penguin. A notable fact about penguins is that they are birds which cannot fly. Opus (voiced by Michael Bell) is in a support group for flightless birds run by Ronald-Ann (Alexaundria Simmons), the only other character from any of the various strips to show up in the special. Opus has dreamed of flight pretty much his entire life, and that dream is not going to die here. He writes Santa and tells him that what he, Opus, wants more than anything else, is to fly. The ducks tease him about this, but he goes to bit on Christmas Eve with the dream still strong in his heart. It is, frankly, disappointing to me. For one thing, much as I like Opus, I miss the others. We get about two minutes of Ronald-Ann, none of which is enough to really establish her as a character beyond being the one to run the support group. Bill . . . there is nothing to Bill. Milquetoast, the cockroach, puts in a brief appearance--voiced by Dustin Hoffman, even, but that's another one too short to be anything but a gag. Maybe Milo, Steve Dallas, and so forth weren't as famous as Opus, but you know, he wasn't even in the strip in the beginning. Bill the Cat was a one-joke character originally who actually ended up fitting the joke he'd been created for. In other words, he was designed to be a cheap ploy to sell merchandise. Oh, look. Honestly, I'm surprised we don't get more of these--one-shot holiday specials for comic strips which catch the public interest. One of the things I read every day, or at least every day he actually updates the damned thing, is Comics Curmudgeon. This means that, for my sins, I know more about the soap opera strips than I did when I actually read the newspaper every day. Oh, I don't exactly expect to see Margo teaching us the true meaning of Purim or Mark Trail celebrating Secretary's Day. It would even be a little surprising to see Curtis's annual Kwanzaa Kraziness on TV. Still, you know, the Fox family, or even the Keenes, seem custom-built for that sort of thing. It's a cute little story, and I'm glad they didn't try to stretch it longer than the just over twenty minutes they've given us. Some stories really are only that long. Oh, if they'd stuck in, say, Binkley or Oliver Wendell Jones, we might have had more. These are characters who stuck with my generation. For heaven's sake, Opus starred in three strips, the last bearing his name, and he himself had started as a minor character. There's a whole universe there, one which practically everyone my age has come to know and love. Berke Breathed was reportedly himself, shall we say, less than pleased with the finished result here, and while it's not terrible, it's not the best, either. The thing is, I'm not sure anyone is capable of really catching the feeling of the strip in animation. I'd like to be proven wrong, though.
Edith Nelson
Opus & Bill - A Wish For Wings That Work Quotes
There are no approved quotes yet for this movie.
Discussion Forum
Discuss Opus & Bill - A Wish For Wings That Work on our Movie forum!