Order of the Black Eagle
(1987)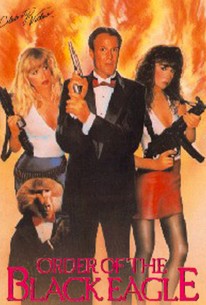 AUDIENCE SCORE
Critic Consensus: No consensus yet.
Movie Info
Typhoon the Baboon and his dashing human partner try to prevent Neo-Nazis from waking the frozen body of Adolph Hitler in this spy movie parody.
Rating:
R
Genre:
, ,
Directed By:
Written By:
In Theaters:
Runtime:
Studio:
Celebrity
Critic Reviews for Order of the Black Eagle
There are no critic reviews yet for Order of the Black Eagle. Keep checking Rotten Tomatoes for updates!
Audience Reviews for Order of the Black Eagle
½
This movie is so bad that it's good. If you're looking for the cheesiest, nonsensical, low quality action movie of the 80s, check this out.
Lisa Spader
½
Okay I'll give it another half-star, but only because it's so stupid that it's funny. First off the hero looks like a Michael Bolton impersonator with a delivery so wooden you could build a boat out of it. Second, it takes 1980's action cheese to new heights. Third, it doesn't even pretend to be credible. Even for a parody of 80's spy movies.
Jonathan Phaup
It doesn't surprise me that I'm one of the first people to review "Order of the Black Eagle", considering that I discovered the movie when my On Demand saved programs list claimed that I had watched one minute of it. My friends and I, being huge fans of terrible movies, watched it alongside with the horrendous "Manos: The Hands of Fate". ("Manos" being far worse than "Order") "Order" is your typical Bond rip-off, perhaps gaining inspiration from "Never Say Never Again" with their use of a lame, balding 40-something Super Spy named Duncan Jax as the main protagonist. We first meet Jax unsuccessfully attempting a diamond heist. (Before I watched this film, I was unaware that evil villains typically hid precious jewels in abandoned office space.) Naturally, Jax is foiled by the bad guys, and he kills several of them before escaping to the top of the heavily unguarded complex and escaping in an experimental aircraft with his pet Baboon. Yes, it's that kind of movie. It is worth noting that this sequence has nothing to do with any other aspect of the film. Jax lands in the middle of some stuffy dinner party that is happening in front of the secret spy-mansion for no apparent reason and proceeds to meet with the old "M" clone, who introduces Jax to the "Q" clone (however, this Q is far younger and also Asian) who then shows off his uninspired gadgets, which are rarely used again throughout the rest of the film. Apparently, the remnants of the Nazi army have been keeping Hitler alive for the past 5 decades. This army, named after the real life "Order of the Black Eagle", is lead by a bloated one-eyed Orson Welles lookalike, who is able to eat the same full turkey for what seems like hours while his army is being obliterated. Duncan Jax teams up with the painfully innocent blonde, who at first seems reluctant to be working with Jax before succumbing to his middle-aged swagger. She gets captured by the nazis, blah blah blah, exploding Nazi jungle motorcycle chase, blah blah blah. Eventually Jax teams up with a rag-tag group of mercenaries. Given that the scene in which this team is introduced is one of the funniest moments of this film, I won't give away any of their skills or "specialties". I will admit that "Juice" was my personal favorite out of all of them, mostly because he reminded me of a cross between Arnold Schwarzenegger's character in "Predator" and John Reynold's Torgo from the aforementioned "Manos: The Hands of Fate". The film ends with a huge battle (hundreds of neo-nazis vs. eight or so people) that entails a baboon driving a tank, an infinite number of inexplicable distant explosions, and an imploding Hitler face. I assume this film's budget was very low. During jungle scenes, the actors are clearly in woodland and the Nobel Prize awards are held in the same building where my junior high regional science fair was. I'm not going to lie, this is an enjoyable film at times. A Hitler death scene similar to the one in the [way better] "Inglourious Basterds" and laughable action scenes make this a fun viewing with friends, perhaps when paired with "Troll 2", "The Room", "Manos" and other so-bad-they're-goods. My rating is based mostly on quality, though it gets an extra 10% for campy, dumb fun.
Graham H.
Order of the Black Eagle Quotes
| | |
| --- | --- |
| Star: | Amazing 80's cheese, uzi ninjas, shitty bond wannabe gadgets, a pyramid, a fat nazi with a eye patch, even a "laser" security system that the hero has to sneak over, I'm waiting and hoping for sharks with fricken' laser beams.... |
Discussion Forum
Discuss Order of the Black Eagle on our Movie forum!