Orgy of the Dead
(1965)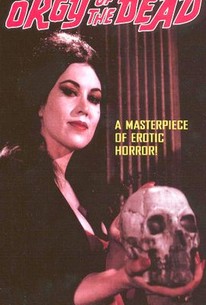 Movie Info
Orgy of the Dead wouldn't be worth anyone's time were it not for its star and screenwriter. The star is the inimitable prognosticator Criswell; the screenwriter is the immortal Ed Wood Jr., adapting his own novel. The King of Wretched Cinema weaves an incredible tale of a writer who decides to spend a night in a cemetery, the better to get into the mood to write a book on necrophiliacs. The writer and his girl friend are overpowered by several zombielike nude ladies (all played by LA strippers). Hero and heroine are tied to posts and subjected to the oratory of Criswell, aka "The Emperor." As if Criswell's ramblings aren't torture enough, the couple is then forced to watch the naked necromancers punish several "sinners" who've been condemned to eternal Darn-ation. The festivities come to an end when the sun rises, reducing Criswell and his followers to dust.
Critic Reviews for Orgy of the Dead
Audience Reviews for Orgy of the Dead
I tried, okay. I almost made it half way through.
vieras esine
Super Reviewer
Good God! I think this may one of the most ridiculous and definitely one of the worst movies I've ever seen. Plan 9 was pretty bad, but it was at least quite entertaining. This may only be a nudie film, but even jiggling titties get boring after a while. I got give them some credit though, I mean, the theme dances just show they put a tad bit of effort into things. Wood only wrote it (based off of his novel!), but this has his name and style all over it. I should give this movie a lower rating, because it really is poorly made, but the women are attractive and the music,as absurd as itis, is actually not bad- and certainly entertaining. I watched this one sober, but I think it would probably improve if I were drunk or high. That's probably the only way I could really appreciate this absurd mess.
Chris Weber
Super Reviewer
What do you think wolfman? This movie will make you want to remove your eyes. You were warned.
Anthony Valletta
Super Reviewer
Orgy of the Dead Quotes
There are no approved quotes yet for this movie.