Oriana (Oriane)
(1985)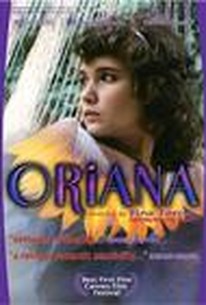 AUDIENCE SCORE
Critic Consensus: No consensus yet.
Movie Info
In this interesting cinematic tour of a woman's memory (winner of the 1985 Cannes Camera d'Or Award), Marie (Daniela Silverio) is a young Venezuelan who has been living in France and returns back home to liquidate her late aunt Oriana's hacienda. As Marie moves at a slow pace through the rooms of the hacienda, closed doors to chambers of memory in her mind begin to open. She recalls her adolescence spent in this house with her reclusive aunt, a woman who never left the premises. As Marie begins to remember events from that era from the perspective of an adult, she realizes why her aunt shut herself away. Parents should be advised that incest is a part of this story. ~ Eleanor Mannikka, Rovi
Critic Reviews for Oriana (Oriane)
There are no critic reviews yet for Oriana (Oriane). Keep checking Rotten Tomatoes for updates!
Audience Reviews for Oriana (Oriane)
I remember watching Fina Torres's opera prima and being transported to the days when I was just a girl and I visited my godmother's HUGE hacienda in the middle of Venezuela, surrounded by lush vegetation... just plants and marshes and posionous animals hehe. It was pretty but sad and scary, and you couldn't help being bothered by the humidity and thinking about ghosts at night. that's sort of what Oriana is. It's almost entirely evocative, there's even hardly a story being told. As a matter of fact, it is revealed with hesitation, discreetly, in a way that doesn't strictly narrate anything. Oriana's niece María comes from France to the Venezuelan countryside in order to arrange the sale of her Aunt Oriana's hacienda. As she walks through the abandoned house she remembers a summer she had spent there when she was a little girl, and all the odd pieces and ambiguous hints she had collected about a very strange presence in the house. Her recollections suggest anything from a vampire to a ghost to a serial killer, and yet nothing at all. The film wonderfully keeps Aunt Oriana's secret just below our noses and reveals it ever so subtly by the end. Meanwhile, it uses the resources of mood and suggestion to create a dark, sensual story about a dark, sensual theme that is always just around the corner. Watching Oriana is like chasing a shadow, overhearing a morbid conversation... or seeing a fire light up in the distance during an evening walk in a hacienda where you know no one else is lodged. A thousand explanations can occur to you, and you may just leave it at that, but you never really know for sure. Oriana is one of two Venezuelan films that have received awards in Cannes; this one was awarded the Caméra d'Or in 1985. As in most Venezuelan films, Oriana suffers from a few uneven, low-rate performances (several conversations amongst friends have yielded a consensus: bad acting brings most national productions down). Still, the leads are actually quite decent and will not distract. The cinematography and art direction are the highlights.
Oriana (Oriane) Quotes
There are no approved quotes yet for this movie.
Discussion Forum
Discuss Oriana (Oriane) on our Movie forum!