Original Gangstas
(1996)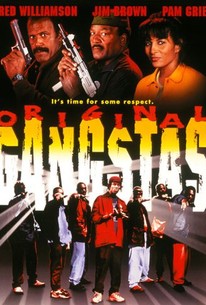 Movie Info
Larry Cohen, who directed a number of interesting and subversive exploitation films in the 1970s and 1980s, including Black Caesar and Hell Up in Harlem, reunited some of the biggest stars of the blaxploitation era for this tough-minded action opus. John Bookman (Fred Williamson) is a successful football coach who was born in Gary, Indiana but now lives in Los Angeles. When Bookman's father is shot, he returns home for the first time in years to discover that Gary has been all but taken over by a number of brutally violent youth gangs. Bookman learns that his father was shot in retaliation for going to the police after a young man was killed by gang bangers outside his grocery store; even worse, the kid who pulled the trigger was a member of the Rebels, the gang that he helped form as a teenager. Outraged, Bookman joins forces with the boy's parents, who also happen to be old friends: Jake Trevor (Jim Brown) and Laurie Thompson (Pam Grier). John, Laurie, and Jake organize the neighborhood against the gangs, with John's old gang brothers Bubba (Ron O'Neal) and Slick (Richard Roundtree) tagging along to show the young gangstas what the old school can do. If Williamson, Brown, Grier, O'Neal, and Roundtree all look a bit older than they did in their glory days, they all still boast charisma to spare, and anyone who liked their older films will have a good time with this one.
Critic Reviews for Original Gangstas
Audience Reviews for Original Gangstas
½
How can something with this much promise be so dull? I was hoping for something with the same life and sly humor that you got in so many Blaxploitation flicks, most of which dealt with the same sort of rather depressing subject matter, but this just felt heavy-handed at times and kinda average at others. Maybe worth a rental, but I wouldn't go selling that copy of Foxy Brown quite yet, you'll definitely want to give it another look to get this taste out of your mouth.
Bill Bryant
I liked it. It's basically Fred Williamson & Jim Brown beating the shit out younger & more athletic guys but it's pretty cool just seeing them kick ass. Overall, pretty unrealistic but who said a movie has to be realistic anyway? Williamson has his signature cigar, which is always a plus. Overall, pretty entertaining. Not too violent. A nice little blaxploitation all-star flick directed by Larry Cohen. Could've used more Richard Roundtree though.
Christopher Stevens
Flat action film but the cast is great and I'm sure you've seen *everyone* in something before. Cohen is not always the best director but he can assemble casts better than anyone bar Robert Altman.
Brian Flynn
Original Gangstas Quotes
There are no approved quotes yet for this movie.
Discussion Forum
Discuss Original Gangstas on our Movie forum!