Orly
(2010)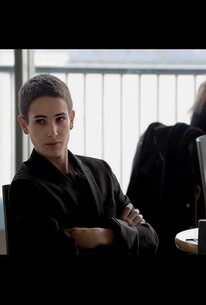 AUDIENCE SCORE
Critic Consensus: No consensus yet.
Movie Info
A handful of people in transit ponder their relationships with friends and loved ones in this multi-character drama from writer and director Angela Schanelec. Juliette (Natacha Regnier) and Vincent (Bruno Todeschini) are old friends who were born and raised in France but haven't seen one another in years when they bump into one another at Orly Airport in Paris. She now lives in Canada, he's been in California for years, and when she learns he's moving back to France, she realizes how much she misses him and her home. Elsewhere, a woman (Mireille Perrier) and her teenage son (Emile Berling) are en route to the funeral of the man who was her first husband and his father. A young couple from Germany (Jirka Zett and Lina Phyllis Falkner) is about to go on vacation; it's their first time traveling together, and they're nervous about how it will impact their relationship. And a woman (Josse de Pauw) who is leaving Paris after breaking things off with her boyfriend keeps rereading his last letter to her. Orly was an official selection at the 2010 Berlin International Film Festival.
Critic Reviews for Orly
There are no critic reviews yet for Orly. Keep checking Rotten Tomatoes for updates!
Audience Reviews for Orly
½
Orly's opening cause an estrangement: the opening credit sequence is audacious compared to Schanelec's previous films and resemble the opening of Godard's films. But we then see the familiar face of Maren Eggert and recognize typically French streets (the connection that Schanelec has with France, especially with Paris, is unquestionable and present in all of her films). Cut. The camera travels lingeringly among family photos. Part of the cover of a LP single is visible; "Love will tear us apart ", the classic A Factory Record - FAC 23. A man, a phone call, a break. Cut. Int., day, Orly Airport. "Orly" features eight characters and four stories - initially, the girl who works at the airport seems to be one of the main characters, but she is just like that time span; at the moment when we could meet her, she leaves the room to talk on the phone - that have in common the place in which they unfold. The film is quite honest in its approach of this time suspended, of this temporary site that marks the non-presence, the transitory. The dialogues, short, long, unfinished, banal, depict the transience of such situations and the relation between public space and intimacy. Cat Power's "Remember me" marks a brief encounter and mismatch, or the impossibility of love. In the stillness of waiting, only and outside factor is able to break such passivity. Although, maybe, it is able to just give it a break. "Yes, it's true. Everything moves into the void, "says Schanelec about the end of Orly. Curiosity: the story that Theo tells about the old man in a cafe accompanied by a young woman is quite similar to the man that Thomas, in "Passing Summer", went to interview (possibly) in Paris. We only know these characters through Theo and Thomas's narration; we not only don't see them as we will never know who they were. Thomas tells us that this man received him - along with his wife with whom Thomas seems to have had more contact - but refused to talk because once he had completed his work, there was nothing else to say. "There is nothing to say. I do not want to say anything. There is nothing to say. Nothing. "Says a voice that gives his age away. Theo, in "Orly", follows the old mand and the young woman when they leave the cafe. They go into a building and he waits outside, across the street. Much later, the girl comes down and goes to his direction. "'He asked me to tell you he doesn't receive guests anymore. He hasn't given interviews for a long time and never gives autographs. This isn't going to change", she said, without annoyance, but without a smile either, seriously bringing to an end the task she seemed to have. The old man, God, whoever, doesn't give interviews. This didn't surprise me."
Rubia Carolina
Super Reviewer
Orly Quotes
There are no approved quotes yet for this movie.
Discussion Forum
Discuss Orly on our Movie forum!