Osama
(2004)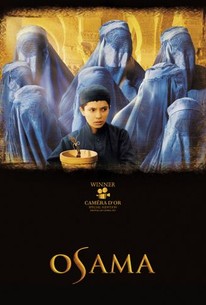 Movie Info
Inspired by a true story, a tale which centers on three generations of women, deeply affected by the advent of the Taliban's rule in their land. Golbahari, a 12-year-old Afghan girl and her mother lose their jobs when this new regime closes the hospital where they work. As the Taliban has already begun to take over Afghanistan, the country's women find themselves forbidden to leave their houses without a 'legal companion'--specifically, a boy or a man. With both her husband and brother dead, there is no one left to support the family--and without being able to leave the house, this mother is left with nowhere to turn. Feeling that she has no other choice, the mother--along with the grandmother--disguises her daughter, Golbahari, as a boy. Now called Osama, the girl embarks on a terrifying and confusing journey as she tries to keep the Taliban from finding out her true identity.
Audience Reviews for Osama
The first Afghan film since the fall of the Taliban, Osama is a deeply harrowing and touching movie of great historical importance set during a monstrous regime that seems to have existed centuries ago, only it hasn't been that long that it came to an end.
Carlos Magalhães
Super Reviewer
Succeeds where Kandahar doesn't in depicting the plight of women in Afghanistan under the rule of the Taliban.
John Ballantine
Super Reviewer
½
Holy cow this is not a film to watch if you want a feel-good movie! The horrible life that these women (young and old) had to endure in this country boggles the mind. It's an amazing insight on a whole entire different culture that needs to never ever flourish. Very well done film. Very depressing though.
Cynthia S.
Super Reviewer
Osama Quotes
There are no approved quotes yet for this movie.