Oscar Nominated Documentary Shorts
(2013)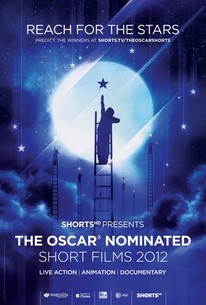 Oscar Nominated Documentary Shorts Photos
Movie Info
Inocente - (directors: Sean Fine and Andrea Nix, USA) An intensely personal and vibrant coming of age documentary about a young artist's fierce determination to never surrender to the bleakness of her surroundings. At 15, Inocente refuses to let her dream of becoming an artist be caged by her life as an undocumented immigrant forced to live homeless for the last nine years. Inocente is both a timeless story about the transformative power of art and a timely snapshot of the new face of homelessness in America -- children. King's Point - (director: Sari Gilman, USA) Kings Point tells the stories of five seniors living in a typical American retirement resort-men and women who came to Florida decades ago with their spouses by their sides and their health intact, and now find themselves grappling with love, loss and the universal desire for human connection. Mondays at Racine - (director: Cynthia Wade, USA) Every third Monday of the month, in brassy Long Island, sisters Cynthia and Rachel open up their hair salon, called Racine, and offer free beauty services for women undergoing chemotherapy. The sisters are determined to give women who are losing their hair, eyebrows and eyelashes a sense of normalcy and dignity in a traumatic and uncertain time. The story of what hair means in our culture quickly unfolds into an unexpected look at womanhood, marriage and survival. Open Heart - (director: Keif Davidson, USA) Eight Rwandan children leave their families behind to embark on a life-or-death journey seeking high-risk heart surgery in Sudan. Their hearts ravaged by a treatable disease from childhood strep throat, the kids have only months to live. Open Heart reveals the intertwined endeavors of Dr. Emmanuel Rusingiza, Rwanda's lone government cardiologist, as he fights to save the lives of his young patients, and Dr. Gino Strada, the Salam Center's head surgeon who must convince Sudanese President Omar Al-Bashir's government to keep Africa's only link to life-saving cardiac surgery free of charge for the millions who need it. Redemption - (directors: Jon Alpert & Matthew O'Neill, USA) In the documentary Redemption, filmmakers Jon Alpert & Matthew O'Neill closely follow this growing army of New Yorkers whose treasures are in the trash. The film is a chance to meet the marginalized masses we often rush past on our way to catch a bus or make a meeting. They are poor but proud New Yorkers - people who don't ask for a handout - people whose hands rake through the discards of our lives - building their lives one nickel at a time. -- (C) Shorts International
Rating:
NR
Genre:
, ,
Directed By:
In Theaters:
Runtime:
Studio:
Critic Reviews for Oscar Nominated Documentary Shorts
Audience Reviews for Oscar Nominated Documentary Shorts
On the whole an okay selection. The most moving was MONDAYS AT RACINE. I don't know why exactly, but the pain these ordinary women felt while getting their heads shaved touched me. The most interesting was REDEMPTION. Seeing people subsist largely or even entirely on nickels from bottles and cans was fascinating. If I were to pick one of these for an Oscar it would be this one. The one they will probably pick is INOCENTE, about an often homeless girl artist and her strained relationship with her illegal alien mother. It was okay. KINGS POINT was better. The dramas of old Floridians is sustainable for 50 minutes, but no more. OPEN HEART was okay, but not gripping. Sick kids should be, and Africa is an exciting and exotic locale, but the kids did not SEEM sick, and much of the time was spent in a nice Western-style (and financed) hospital.
Roy Smith
Discussion Forum
Discuss Oscar Nominated Documentary Shorts on our Movie forum!
News & Features