L'Altro inferno (Guardian of Hell) (The Other Hell) (The Presence)
(1987)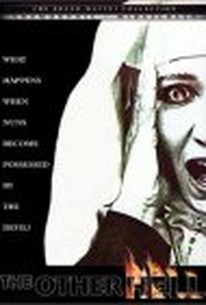 AUDIENCE SCORE
Critic Consensus: No consensus yet.
Movie Info
A priest investagates paranormal activity at a nuns' convent where a deep, dark secret is about to resurface in the guise of murder! Could the devil be behind this, or is that just what Mother Superior wants everyone to believe?
Critic Reviews for L'Altro inferno (Guardian of Hell) (The Other Hell) (The Presence)
There are no critic reviews yet for L'Altro inferno (Guardian of Hell) (The Other Hell) (The Presence). Keep checking Rotten Tomatoes for updates!
Audience Reviews for L'Altro inferno (Guardian of Hell) (The Other Hell) (The Presence)
L'Altro Inferno (The Other Hell) (Bruno Mattei, 1981) You've heard of The Asylum, yes? It's an American production house that for a while turned out decent indie pictures, every once in a while coming up with a really, really good one. But roundabout 2006 or so, they realized that for a low-budget shop, the real money was in no-name knockoffs of blockbuster pictures-and thus, the Asylum Mockbuster was born. They have turned into a one-studio mockbuster cottage industry. And you know what? Pretty much every movie The Asylum has released since Halloween Night, their first successful mockbuster, has been reviled both critically and popularly...but The Asylum are laughing all the way to the bank, because no matter how much we hate the stupid things, we keep watching them. But you didn't think The Asylum invented the idea, do you? If so, let me introduce you to Bruno Mattei, a one-man mockbuster factory who spent thirty years making bank by ripping off other people's work. His third feature, 1977's Casa Privata per le SS, is a shameless ripoff of the Ilsa movies, and his final picture, 2007's Zombies: The Beginning, was an equally shameless Aliens rip. In the interim, he "paid homage" to just about every horror and exploitation film you can think of. 1981's The Other Hell, Mattei's entry into the wonderful nunsploitation genre, mixes equal parts The Sinful Nuns of St. Valentine (1974) and Killer Nun (1977) to come up with something that is just about as original as the first half of this sentence would have you believe. Plot: A priest, Father Valerio (Teorema's Carlo de Mejo), is sent by the Vatican to investigate allegations of dark and twisted goings-on at the convent run by Mother Vincenza (Buio Omega's Francesca Stoppi). Needless to say, the allegations are true, or we wouldn't have a movie. (Or if we did, it wouldn't be a nunsploitation movie.) The parenthetical there is pretty much the entire problem with this movie (other than, well, it being a shameless rip-off of better movies in the genre); if you hit the play button on a nunsploitation flick, there are certain things that, if you know the genre, you're expecting, two of which are the first two parts of Joe Bob Briggs' three-Bs trilogy of things that make a good movie. Mattei's lackluster entry has very little blood and almost nothing in the way of breasts (and not even any random beasts to balance this out). Combine that with the expected mind-shatteringly awful script and what do you have? The nunsploitation movie you should only consider watching when you have exhausted every other choice in the nunsploitation catalogue, that's what. *
Robert Beveridge
½
The Other Hell is a forgettable 1980 horror film that has very little going for it. It's not worth picking up unless you want a good laugh. The Other Hell is about a priest who is sent to a convent to investigate the sheer lunacy of a bunch of nun's gone nuts. The plot is too straightforward and too simple to maintain the audience interest. The plot never explains much of what is going on nor does it have any character development. I knew I was immediately in trouble when the film just abruptly started in some cemetery and would set the tone for abrupt cuts. In the first six minutes, I hear a nun say "The genitals are the door to evil! The vagina, the uterus, the womb; the labyrinth that leads to hell; the devil's tools!". This is one of the weirdest line I've ever heard in a movie. The nun letter goes ahead and cuts the uterus, unfortunately the rest of the movie is not as hilariously written. Aside from what appeared to be an actual Chicken decapitation, the movie itself is tame. There is little blood and even less plot to keep you awake during the entire duration. The soundtrack on the other hand is fantastic, if this was for an 70s or 80s cop show that is. The soundtrack is overused and some tracks are recycled from other superior horror film. The acting is laughably bad, there was not a single actor that gave a convincing performance. The direction is simply clueless often showing us a cat for no reason. The director should have probably filmed a scene with a real baby instead of just simply using a doll for some reason. The editing is bad in general and it's not just abrupt cuts. The audio often time the audio just stays silent at times even when someone talking. The ending just comes out of nowhere and with no end credits. No end credits, that's the first time that happened since I've seen The Ninja Squad a couple of months back. The Other Hell is unintentionally funny, but with very little and dead simplicity makes this dull to sit through for most of it duration. The Other Hell is a forgettable film that has little value to offer it viewers.
Caesar Mendez
Super Reviewer
Another poorly executed effort by Bruno Mattei. A bloody mess of a film all set in convent were grisly murders are taking place with the suspicion of Demons at play prompting a couple of priests to investigate. Those familiar with Bruno Mattei will know his films have a fun entertaining side no matter how bad they turn out, this one sadly didn't have too much of this "so bad it's good" vibe. It actually is a boring film at times. The Goblin musical score is completely out of place killing the atmosphere rather than enhancing it, which is a shame as the location used was quite good and provided a fitting backdrop to the film. It's occassionally bloody and starts off with a nasty little scene where a female embalmer mutilates a dead nun's vagina removing and fondling the uterus! But overall it's too slow and stupid, nothing gels together and it lacks the sleaze which would have made it more watchable for a film of its type.
L'Altro inferno (Guardian of Hell) (The Other Hell) (The Presence) Quotes
There are no approved quotes yet for this movie.
Discussion Forum
Discuss L'Altro inferno (Guardian of Hell) (The Other Hell) (The Presence) on our Movie forum!