Otoko wa tsurai yo (Am I Trying) (It's Tough Being a Man) (Tora-san Our Lovable Tramp)
(1974)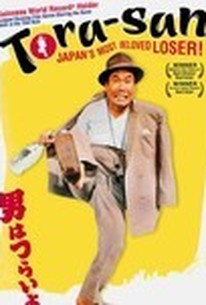 AUDIENCE SCORE
Critic Consensus: No consensus yet.
Movie Info
This riotous 1969 comedy was the first in a series of 28 (counting up to 1981) and except for two instances, all were directed by Yoji Yamada. The main character is Torajiro played by Kiyoshi Atsumi, a Japanese version of Charlie Chaplin's tramp who breeds disaster wherever he innocently treads. He is a traveling salesman, and under the circumstances, surprisingly care-free in spite of the chaos he effortlessly generates. In one sequence, he arrives home after a long absence and manages to leave his younger sister's wedding plans in tatters. Hoping to right the wrongs, he leaves for awhile, but when he returns, things just get worse. Can Torajiro ever save face and get things straightened out? Probably not, given he has 27 more tries coming up. ~ Eleanor Mannikka, Rovi
Rating:
NR
Genre:
, ,
Directed By:
In Theaters:
Runtime:
Critic Reviews for Otoko wa tsurai yo (Am I Trying) (It's Tough Being a Man) (Tora-san Our Lovable Tramp)
There are no critic reviews yet for Otoko wa tsurai yo (Am I Trying) (It's Tough Being a Man) (Tora-san Our Lovable Tramp). Keep checking Rotten Tomatoes for updates!
Audience Reviews for Otoko wa tsurai yo (Am I Trying) (It's Tough Being a Man) (Tora-san Our Lovable Tramp)
Kiyoshi Atsumi's Tora-san is the illegitimate son of Buster Keaton and Charlie Chaplin. Apparently they took a trip to Japan and romanced a geisha. Obviously I'm joking, but Atsumi has a gift for physical comedy. This movie is hinged on his impeccable sense of comedic timing. The narrative structure is simple and formulaic. It is merely a vehicle in which to display Atsumi's talents. Several scenes are completely unnecessary in relation to the plot line, but all is forgiven because they offer more comedic romps for our Tora-san. There is some artistic merit to the film, however. The cinematography is dazzling at times. There are many slow panning shots across the lovely country side which are juxtaposed nicely with shots of Tora-san. Yoji Yamada, the director, also knows how to stage a scene. For instance, when Hiroshi is asking Tora-san for his blessing to pursue his sister Sakura, the scene is shot in a small confining room. Tora-san is sitting on a table looking down at Hiroshi who is sitting on the floor. Directly between them in the background is an open window outside of which is a long metal pole. The pole is angled so that it lines up with Tora-san's gaze. It looks as if Tora-san is literally shooting a dagger with his eyes. It is a clever touch. Yamada knows he is creating a simple comedy, but he is still an artist and that is evident. Throughout the film it is clear that Yamada loves his character Tora-san. Being both the writer and director, he has created a flawed yet lovable character. Whenever Tora-san loses his temper, it is portrayed in such a way that we have to forgive him. Even when he slapped his sister, I understood why he did it and still found him endearing. He predated America's Archie Bunker in that sense, as the lovable oaf with a heart of gold. It is easy to see why this became such a popular film series. Tora-san exudes a warm quality which strikes home with people. His flaws make him approachable and human, but his comedic hi jinx and pratfalls make him hilarious and entertaining. Tora-san is a timeless character whose shortcomings make him charming and whose golden heart makes him lovable.
Adam Holt