Otoko-tachi no Yamato
(2005)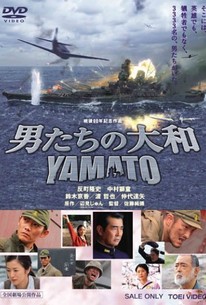 AUDIENCE SCORE
Critic Consensus: No consensus yet.
Movie Info
Makiko Uchida arrives in a southern Japanese port hoping to find a boat that will take her to the final resting place of the Battleship Yamato on the 60th anniversary of its sinking. She is rebuffed by all until she reveals to Katsumi Kamio that she is the daughter of Petty Officer Uchida. Kamio is surprised for he thought unlike himself, Uchida had been lost when the Yamato was besieged and sunk on April 7, 1945 by American aircraft which prevented its fulfilling a final suicide mission against the American fleet battling to capture Okinawa. Kamio and Uchida were part of a close set of comrades that proudly and bravely served on board this, the largest battleship ever constructed. He agrees to journey with Makiko with only the help of Atsushi, a 15 year old deckhand. As he pilots the way throughout the rough 15 hour journey Kamio reminiscences about life aboard the Yamato during the war and also about the sailor's mothers and girlfriends left back home.
Critic Reviews for Otoko-tachi no Yamato
There are no critic reviews yet for Otoko-tachi no Yamato. Keep checking Rotten Tomatoes for updates!
Audience Reviews for Otoko-tachi no Yamato
Exactly what you would expect from this kind of material: corny, sentimental, melodramatic and nationalistic. One dimensional characters eager to sacrifice themselves for their country in every single sequence.
Tsubaki Sanjuro
Super Reviewer
½
If Titanic was a battleship, Yamato is how the movie would possible turn out. There is no question as to the success of this film in Japan.
This film takes a page out of Titanic and goes with present day characters, including one unfolding his story as it jumps back to the WWII years. At 2 hours and 20 minutes, the film jumps back and forth between the past (1940s) and the present (2005), with some historical type news scenes to advance the plot months forward at a time. Of course, a bulk of the film is spent in the past to keep the story as least choppy as possible.
It is wishful thinking to think that the entire film is one long war scene. This story does have its share of dramatic parts, but there is some good character development for all the major players. Like any good historical war type film, you do have the emotional parts, which will leave the weak of heart with tears. It is all part of the recipe for the success of this movie.
The action scenes are superb and it leaves you wanting way more of it. The Yamato is done in CG, which leaves shots of the entire battleship down to a rare minimum. This is a shame, since the war shots of it firing its guns at the surrounding aircraft are brilliant. In case you are wondering, the action is bloody, but it isn't anything you haven't seen in any other war movie before.
The acting is well done and recognizable faces portray all the major characters. Takashi Sorimachi, of GTO, and Shido Nakamura, of Fearless, put on the more memorable performances of their careers. Kyoka Suzuki and Aoi Yu show up for the female leads in this film.
Yamato isn't perfect, but people who like WWII historical movies will want to see this at least once.
Otoko-tachi no Yamato Quotes
There are no approved quotes yet for this movie.